Screen can reveal a first look at Devika Bhise in Cayenne Pepper Productions' historical epic Swords And Sceptres, which has now wrapped after filming in the UK, India and Morocco.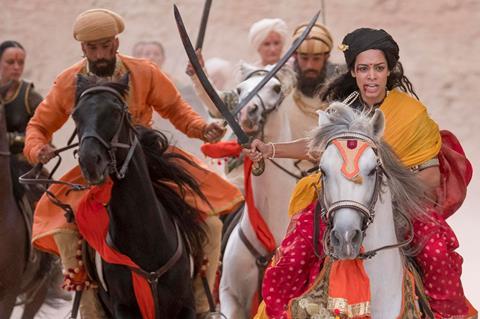 Rupert Everett, Derek Jacobi, Ben Lamb and Jodhi May also star in the film alongside a host of established Indian actors including Nagesh Bhonsle, Yatin Karyekar, Milind Gunaji, Arif Zakaria, and Ajinkya Deo.
Cayenne Pepper Productions CEO Swati Bhise, producer of The Man Who Knew Infinity, makes her feature debut as a director on the film. She is also producing and Charles Salmon is co-producing.
Swords And Sceptres tells the true story of Rani Lakshmibai, the historic Queen of Jhansi who fiercely led her army against the British East India Company in the infamous Indian Rebellion of 1857.
Swati Bhise commented on the project: "I wanted to make this film to tell an inspirational story to a global audience. It's an incredible story about a woman who fought for what she believed in. Her story is one of female empowerment, more relevant now than ever, and can be drawn upon to inspire women all around the world."
Crew on the film include costume designers Vidhi Singhania, Riyaz Ali Merchant and Swati Bhise with make-up by Vikram Gaikwad. Angelica Monica Bhowmick is production designer, Glenn Marks is action co-ordinator, Seamus Deasy is DoP, Terry Bamber is first assistant director and Tuomas Kantelinen is composer.