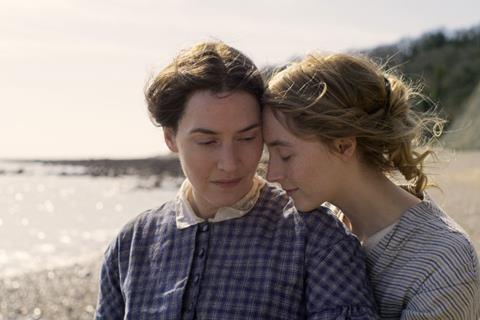 Screen can unveil a first look at Kate Winslet and Saoirse Ronan in Francis Lee's romantic drama Ammonite.
See-Saw Films is producing the project and handling sales through its in-house sales arm Cross City Films, which has now struck fresh territory deals for France (Pyramide), Germany/Austria (Tobis), Switzerland (Ascot Elite), Japan (Gaga), and worldwide airlines (Echo Lake Distribution). The film has now sold out internationally.
From the director of 2017 UK breakout God's Own Country, and also with a screenplay written by Lee, Ammonite sees Winslet play Victorian-era palaeontologist Mary Anning. When a wealthy man entrusts Anning with the care of his wife Charlotte Murchison (Ronan), the pair initially clash before developing an intense bond.
Producers on the project are Iain Canning and Emile Sherman for See-Saw, with Fodhla Cronin O'Reilly. The BFI and BBC Films co-financed the film.
Also in the cast are Fiona Shaw, James McArdle, plus God's Own Country alumni Gemma Jones and Alec Secareanu. Production has now wrapped after shooting in Dorset, Surrey and London.
Cross City Films sealed a host of further territory deals ahead of this year's European Film Market in Berlin, including Sony Pictures Worldwide Acquisitions, Lionsgate and Transmission for key markets. The company is co-representing North America rights with CAA Media Finance.