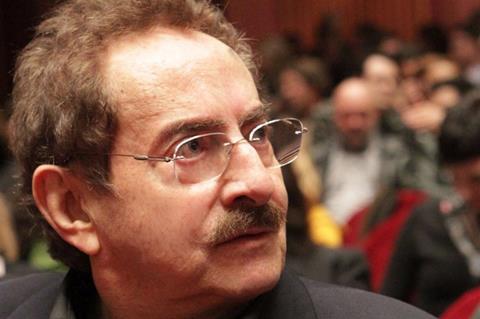 Dimitri Eipides, a former director of the Thessaloniki International Film Festival (TIFF), has died aged 82.
A statement from TIFF confirmed that Eipides died on Wednesday (January 6). He had been in frail health for some time, according to those close to him, and was recently admitted to hospital with pneumonia in Athens, where he died.
Eipides stepped down as director of TIFF in 2016, having overseen Greece's leading film event since 2010. He also resigned as director of Thessaloniki Documentary Festival, an event he founded in 1999.
Well-respected throughout the international film community, Eipides previously co-founded the Montreal Film Festival and spent 28 years as a regional programmer for the Toronto International Film Festival.
A statement from a Thessaloniki spokesperson said: "We will always remember him in front of a screen, watching a film, explaining passionately why it is ideal for a festival, ideal for our soul."
Born in Athens, Eipides studied English literature and theatre at the University of San Francisco, and stage direction at the American Academy of Dramatic Arts in New York and the London School of Film.
In 1971, he co-founded the Montreal Festival Du Nouveau Cinema with Claude Chamberlain and spent 14 years as festival director.
Eipides worked as senior international programmer at Toronto from 1988 to 2019, helping shape the festival's regional programming for Central and Eastern Europe, Central and Western Asia, and Greece.
When he stepped down from that role in 2019, Toronto artistic director Cameron Bailey said: "Dimitri brought his exacting and global vision of cinema to Toronto, introducing audiences to Abbas Kiarostami, Mohsen Makhmalbaf, Béla Tarr, and the Dardenne brothers, among many others… His legacy will never be forgotten."
In his first year with Toronto, Eipides programmed 26 films from Iran, marking one of the earliest such presentations to Western audiences, and the Iranian Minister of Culture honoured him in 1993 for his role in the promotion of Iranian cinema internationally.
Also in 1993, Eipides introduced the New Horizons section to Thessaloniki and was presented an honorary Fipresci award in 1999 for the quality and originality of the strand, which showcased film directors who were previously little-known in Europe.
Eipides was also programme director of the Reykjavik International Film Festival from 2005 to 2010.