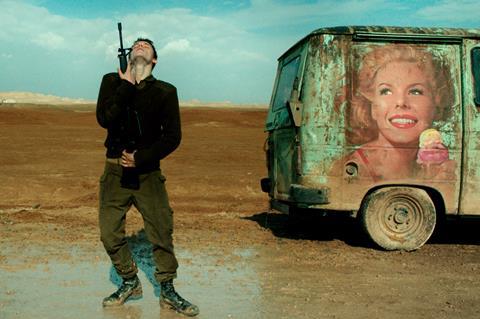 Samuel Maoz' Foxtrot collected eight prizes at the Ophir Awards, Israel's equivalent of the Academy awards, last night (19 September).
The film, which had already collected a Silver Lion in Venice, claimed best picture, best director for Maoz (a previous winner for his debut, Lebanon), best actor for Lior Ashkenazi (his third win), best cinematography (Giora Bejach), best editing (Guy Nemesh, Arik Leibovitz), production design (Arad Awat), sound design (Alex Claude) and original music (Ophir Leibovitz, Amit Poznanski).
The winner of the best picture prize is automatically designated as the country's representative for the foreign language Oscars.
Criticism
The awards for Foxtrot, a searing drama about a couple who is told their son was killed in the line of duty, has become a controversial topic in Israel because of the opposition to the film by the country's minister of culture, Miri Regev.
Regev, a former Israel Defense Forces spokewoman who has been part of Israeli Prime Minister Benjamin Netanyahu's right-leaning government since 2015, has been critical about the way in which Israeli soldiers are depicted mistreating Palestinians in the film.
Regev, and other political figures, were not invited to this year's Ophir Awards ceremony.
After the event, she broadcast a speech on her Facebook page that apologised to the soldiers of the Israeli Army for the existence of the film, which she claimed was offensive and falsified the truth, and also reiterated her intention to make changes to how the government funds Israeli cinema.
Regev previously criticized Foxtrot when it won at Venice, writing on Facebook: "When an Israeli film wins an international prize, my heart fills with pride and my natural desire is to strengthen and encourage Israeli success."
"This rule has one exception - the international embrace of self-flagellation and cooperation with the anti-Israeli narrative. The award received by Foxtrot in Venice… belongs to the exception."
Other winners on the night were Maysaloun Hamoud's In Between, the story of three young Arab women living in Tel Aviv, which won a best actress award for Shaden Kanboura and best supporting actress (Mouna Hawa), Scaffolding (best supporting actor Ami Smolarchik), Longing (best script by writer/director Savi Gabizon), Madam Yankelova's Fine Literature Club (Maya Leibovitz, costumes) and Doubtful (casting by Orit Azoulay). Yariv Moser's Ben Gurion, an Epilogue won in the feature-length documentary category.