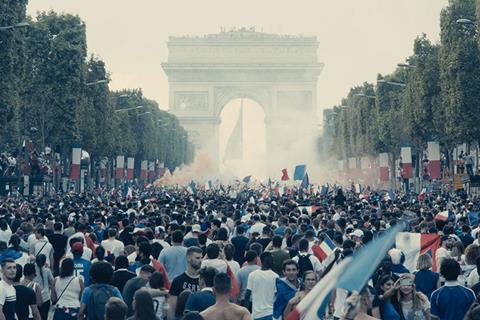 Ladj Ly's explosive social drama Les Miserables, capturing the tensions in a tough Paris housing estate, will represent France as the country's submission to the Academy Awards's rebranded international feature film category in the 2019-20 Oscar race.
The film made waves when it premiered in Competition in Cannes this year, winning the Jury Prize (in a tie with Bacurau).
It is a first feature for Ly, who has spent most his filmmaking career capturing the tough reality of the tough Paris suburb where he grew up.
It was produced by Toufik Ayadi and Christophe Barral for SRAB Films. Le Pacte is due to release the film in France on Nov 20. Amazons Studios is planning a Jan 10, 2020 launch in the US.
Other films on the submission short list were Celine Sciamma's costume drama Portrait Of A Lady On Fire and Alice Winocour's space-age tale Proxima, starring Eva Green as a woman preparing for a space mission that will separate her from her young daughter.
Films tipped as potential submissions but not on the final short list included François Ozon's By The Grace Of God, exploring a real-life sexual abuse scandal involving the Catholic church in France, and Eric Toledano and Olivier Nakache's French social comedy The Specials, which closed Cannes.
Selection process
The director, producer and sales agent for each of the candidates were auditioned on Friday by a selection committee overseen by France's National Cinema Centre (CNC).
This year it committee comprised producers Rosalie Varda and Jean Bréhat; sales agents Agathe Valentin and Muriel Sauzay; directors Danièle Thompson and Pierre Salvadori, as well as Cannes Film Festival delegate general Thierry Frémaux, Unifrance president Serge Toubiana, and Alain Terzian, president of France's César awards.
It is the first time that film industry professionals have been included in the committee alongside filmmakers and cultural institution chiefs, as part of a shake-up announced in July aimed at increasing France's chances in the Oscar race.
Close-run race
All three features on the short list were regarded as strong candidates, for different reasons.
Sciamma's passionate love story set in 18th century Brittany won best screenplay and the Queer Palm when it premiered in Competition in Cannes last May.
Proxima recently premiered in TIFF's Platform selection, garnering rave reviews and an honourable mention.
Debate within the French film industry over which film should be selected was rife on the social networks with a number of Twitter polls springing up, all yielding different results.
In a sign that emotions were running high Unifrance took down a poll earlier this week putting Les Miserables in the lead, following complaints from professionals.
France last won the Oscar for best foreign language film in 1993 with for Régis Wargnier's Indochine, and the last nomination was in 2016 for Deniz Gamze Ergüven's Mustang.
The nominations for the 2020 Oscars will be announced on January 13.