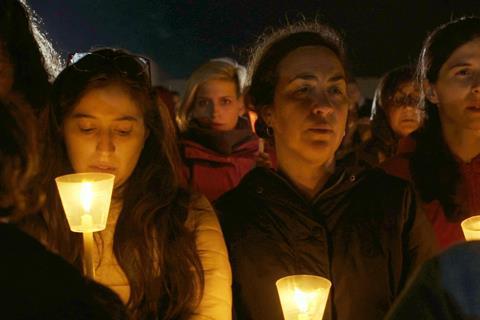 Paris-based auteur-focused MPM Film and shorts specialist Premium Films have joined forces to create a single sales entity called MPM Premium, combining their industry know-how and network.
Under the new structure, current MPM Film and Premium Films sales executives Ricardo Monastier and Leslie Saussereau will combine forces on the international sales front.
MPM Film founding chief Marie-Pierre Macia and producer Claire Gadéa and Premium Films founder Jean-Charles Mille will oversee management of the company.
"The market is evolving and we have to adapt. The fusion allows us more flexibility and better reactivity thanks to a bigger team, with complementary abilities and a wide expertise. We plan to optimise our investments and be more present on the international markets," Macia, Gadéa and Mille said in a joint statement.
"It's more and more difficult for auteur films to find their place in the market and we believe that thanks to complementary nature of our teams, we will be able to aim higher for respected, demanding works and also have access to a greater number of films in terms of acquisitions," they added.
For its first joint EFM, the new company will host market screenings of Zac Farley and cult US writer Dennis Cooper's Permanent Green Light, revolving around a young man who wants to blow himself up; and João Canijo's pilgrimage drama Fatima (pictured). Both titles premiered at Rotterdam.
MPM Premium will also continue sales on Brazilian director Caroline Jabor's Liquid Truth, exploring the timely topic of trial by internet; Dipesh Jain's psychological thriller In The Shadows, shot in the labyrinthine streets of Old Delhi; and award-winning road trip drama Easy, following a life-changing journey from Italy to the Ukraine.
Former Cannes Directors' Fortnight chief Macia launched production and distribution company MPM Film in 2002.
Claire Gadéa joined the company as a producer three years ago having worked as an assistant producer on 10 feature films including One Evening After the War by Rithy Panh, The Mutants by Teresa Villaverde, April Captains by Maria de Medeiros and Lumumba by Raoul Peck.
Her recent credits include Philippe Lacôte's Run, which premiered in Cannes Un Certain Regard in 2014.
MPM Film's co-production credits include Panos Koutras' Xenia, Bela Tarr's The Turin Horse and recently, Lucrecia Martel's Zama. On the sales front, it has handled Romanian filmmaker Adrian Sitaru's The Fixer, Saudi director Mahmoud Sabbagh's Barakah Meets Barakah and as well as French films like Elise Girard's Strange Birds.
Mille launched Premium Films in 1998. With an initial focus on short films, it handled the international sale of a number of Palme d'Or winners such as Trafic, Leidi and Waves 98 as well as more than 20 Academy Award nominees including Dekalb Elementary, which is nominated in the live action short category this year.
In 2013, the company made the natural step into feature film, handling sale of productions such as Noaz Deshe's White Shadow, Daniel Hoesl's Soldate Jeannette and Fernando Guzzoni's Jesus.
Under the new structure, MPM Film will pursue its production activities as a separate entity and Premium Films will continue to support new talents through its short film sales and distribution operation. MPM Premium will focus uniquely on the sale of feature-length films.