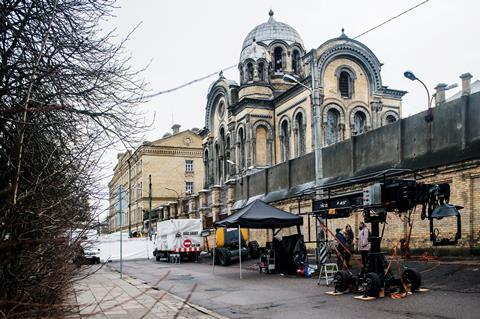 The heads of the national film institutes of Estonia, Latvia and Lithuania came together at the annual Industry@Tallinn & Baltic Event as part of the Black Nights International Film Festival to pitch their countries as major film hubs to the international film industry.
The Baltic countries have opened up in the last two years as shooting locations for international productions from Christopher Nolan's Tenet through TV series Chernobyl, Young Wallander, and Rise Of The Nazis to international features including Hans Petter Moland's 2019 Berlinale competition title Out Stealing Horses and Sergei Loznitsa's Cannes competition title A Gentle Creature.
Producers have been drawn by financial incentives in each country and a wealth of locations on offer in each.
Estonia
Nele Paves, film commissioner at the Estonian Film Institute revealed the range of international projects that can be supported by the Film Estonia cash rebate (which has a total budget of €2m for 2021) has been extended to include interactive films aimed at distribution on small screens such as mobile phones.
Recent productions supported by Film Estonia include US interactive film Anatomy Of A Decision, Finnish TV series My Husband's Wife, Danish animated feature Hodja and Finnish comedy Remppa. Additionally, the Estonian Ministry of Culture awarded Warner Bros' Tenet a one-off payment of around €5m since the production's spend in Estonia amounted to €16m.
"We have different looks for different kinds of films," said Paves. "The Finns come here to film period dramas but what is most interesting for Hollywood is our post-Soviet architecture. And after hosting Tenet, I am confident that we are capable of servicing any size of project."
Inga Koppel of the Tartu Film Fund in the south of the country noted both local and international productions are eligible for the cash rebate of 20% eligible expenditure. Henrik Ruben Ganz's First World War drama Erna At War, produced by Denmark's Nimbus Film and Belgium's Entre Chien et Loup with Estonia's Nafta Films, shot in Tartu and Tartu country in 2019.
"It was shot with a mainly Estonian-Latvian crew," said Koppel.
Set in Jutland during the First World War, the drama starring Trine Dyrholm and Ulrich Thomsen had its international premiere in Tallinn's Official Selection – Competition.
Latvia
Neighbouring Latvia offers two co-financing programmes, the Latvian Co-Financing Fund and the Riga Film Fund, explained Inga Bleese, head of production at the National Film Centre of Latvia (NFC). They offer combined cash rebates of between 40-50% on eligible expenditure.
Recent productions supported by the Riga Film Fund include UK gothic horror Raven's Hollow to be co-produced by Now Films with Film Angels Studio, fantasy thriller The Piper, a co-production between Cyprus' Ratcatcher Entertainment with Latvia's Tasse Film, and Estonian director Ove Musting's feature debut Kalev, produced by Allfilm with Riga-based Ego Media. The latter was presented in the Works In Progress showcase at the Baltic Event earlier this week.
In addition, Latvia has a minority co-production support programme with an annual budget of €300,000, that can support between three to four projects a year with the proviso 80% of the support is spent in Latvia.
Lithuania
According to Deimantas Saladžius of the production department of the Lithuanian Film Centre (LFC), the country's tax incentive programme raised €6.8m from investors in 2019. HBO and Sky's Chernobyl was one of the productions to receive support from this, along with Yellow Bird's Norwegian political thriller series Occupied, Netflix's English-language Young Wallander, and international spy thriller series Hamilton.
The biggest international production to shoot in Lithuania in 2020 has been the fourth season of Netflix's Stranger Things. Shooting took place at locations in and around the Lithuanian capital Vilnius last November, including the recently closed 100-year-old Lukiskes prison, and wrapped in mid-February, before the pandemic closed down European production for several months.