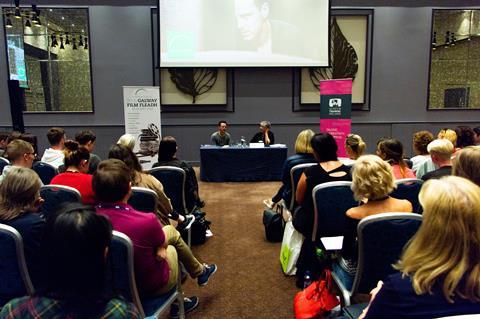 Industry platform Galway Film Fair is to be reimagined as a virtual marketplace due to ongoing Covid-19 lockdown measures.
The event, which runs alongside the Galway Film Fleadh, will launch on the originally planned date of July 7 and will feature networking meetings, panel events and seminars, masterclasses and its annual Pitching Competition.
GFF's Marketplace, which comprises pre-scheduled one-on-one meetings between filmmakers and industry, will go ahead using video conferencing software.
The 24th edition of the industry platform will also include a private screening room powered by Festival Scope and Shift72, which is handling the streaming solution for the online edition of Galway Film Fleadh that was announced earlier this week.
Companies from the US, UK, Korea, Italy and Germany have already confirmed their virtual attendance with firms including Bankside Films, Carnaby International, Metro International and the BBC from the UK; Visit Films, XYZ Films and Cinetic Media from the US; and Picture Tree International from Germany.
Last year, around 3,000 delegates from 30 countries attended and included 40 film festival representatives from Sundance, Toronto, London and Edinburgh among others. The event usually includes a country focus and last year invited a delegation of producers from Estonia, but this element will not be included this year.
Galway Film Fair manager Debbie McVey told Screen: "We felt it was important to go ahead and have a platform to discuss the present and future of the industry through this pandemic. Production and theatrical have come to a standstill so we felt determined that our side of the industry could continue.
"The opportunity to meet online and pitch projects for the future is important to keep the industry ticking along as much as it can."
All non-essential businesses have been closed in Ireland since March 25 and the first phase of easing lockdown will begin on May 18. But the likes of cinemas will not reopen in the country until August 10, when social distancing guidelines will be imposed.
"Looking at running this year's event, it became fairly apparent, fairly quickly that no-one will be travelling anytime soon," said McVey. "We know cinemas, like many enclosed spaces, will be one of the last things to open and, with social distancing, you're looking at a quarter capacity. So we're trying to replicate the event as much as possible online."
McVey added that the Marketplace, which usually takes place over two days, may be staggered across three or four days because "we're cognisant that there are only so many hours people can sit in front of a computer screen". Hosting meetings stretching across timezones from Korea to Los Angeles will also see one-on-ones scheduled accordingly.
Submissions for the event are now open and applicants must have a project in development or a completed feature to participate in the Marketplace. Priority is given to projects that already have a percentage of development or production finance in place.
Galway Film Fair is funded by Screen Ireland, Creative Europe, Northern Ireland Screen and the Broadcasting Authority of Ireland (BAI).
It marks the latest event to offer a digital alternative in the wake of the Covid-19 outbreak such as Cannes Marché du Film, which is to run online from June 22-26 following the cancellation of its physical event. Rome's MIA film and TV market has announced plans to mix physical and digital events, but takes place later in the year, in October.