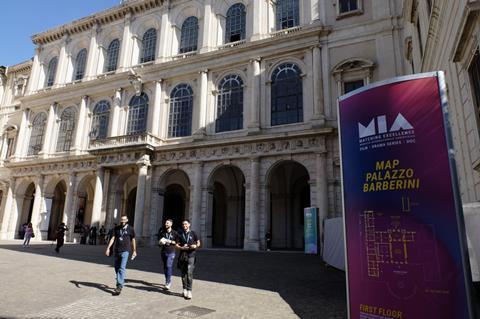 Rome's MIA film and TV market has revealed plans to mix physical and digital events when it takes place later this year.
The sixth edition of the Audiovisual International Market (MIA), which runs alongside the Rome Film Festival, is set to go ahead from October 14-18 with "Covid-proof" measures in place, in the wake of the coronavirus pandemic.
Around 2,600 executives attended last year's market but organisers are anticipating that some international buyers may still be reluctant to travel and are building MIA Digital, an online platform that will feature a "vast catalogue" of new content.
However, the physical event will go ahead in the Barberini district of the city, which an MIA statement described as a "protected and Covid-proof environment, thanks to protocols enabling full national and international participation at every event, with every necessary public health precaution in place".
Submissions for MIA's pitching forum and co-production market will open on Friday (May 15) for the film, drama series and documentary sections, and around 50 projects from around the world will be selected.
Launched in 2015 as a reboot of Rome Film Festival's Business Street market, MIA has grown into a major industry event on the international circuit, featuring a line-up that comprises mainly Italian and European projects. Last year, more than 200 international buyers from 43 countries attended, including representatives from A24, Beta Cinema, Le Pacte, Studiocanal and Wild Bunch.
The market is backed by Italy's motion picture association, Anica, and TV producers' organisation APA.
It marks the latest event to offer a digital alternative in the wake of the Covid-19 outbreak such as Cannes Marché du Film, which is to run online from June 22-26 following the cancellation of its physical event.
Italy has begun easing lockdown measures and the country's bars and restaurants are among those set to reopen next week. Italy's regional authorities have been granted the power to lift restrictions on popular leisure businesses from May 18 after new Covid-19 cases reached their lowest level in more than two months. However, there is no indication as to when cinemas can reopen their doors.