Dominik Graf's ménage-à-trois drama to compete for the Best Foreign Language Film at the Academy Awards.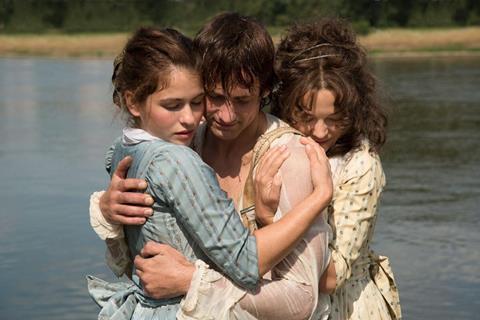 Dominik Graf's period drama Beloved Sisters is to represent Germany as the official submission for the 87th Academy Awards for Best Foreign Language Film.
The decision was made today (Aug 27) by an independent jury in Munich, which was appointed by German Films to preside over the selection process.
In a statement explaining its motivation, the nine-person jury chaired by Peter Herrmann said: "Beloved Sisters is a modernly told ménage-à-trois that takes us back to the 18th century with a certain lightness.
"Dominik Graf directed, with his own personal signature and great sensitivity, the story of a moving love affair. The film convinces with the direction of the actors, the images suffused with light, and its very clever and unconventional composition."
Producer Uschi Reich: "This designation is for me the greatest joy and the confirmation of my work."
The film tells the true but little known story of a ménage-à-trois between German poet Friedrich Schiller and the von Lengefeld sisters, a utopia on the eve of the French Revolution. German actors Florian Stetter, Hannah Herzsprung and Henriette Confurius star in the leading roles.
The feature was produced by Bavaria Filmverleih und Produktions GmbH, in co-production with WEGA Filmproduktionsgesellschaft (Austria), WS Filmproduktion Dr. Wolfgang Stürzl, KIDDNIX Filmproduction, Senator Film Produktion, WDR, BR, Degeto, ARTE and ORF.
The production was funded by Mitteldeutsche Medienförderung, Film- und Medienstiftung NRW, FilmFernsehFonds Bayern, the German Federal Film Board (FFA), the German Federal Film Fund (DFFF), Cine Tirol, and Filmlocation Austria (FISA).
The film was released in German cinemas on July 31 by Senator Film Verleih.
Beloved Sisters received its world premiere in competition at the Berlinale in February and went on to screen at film festivals including Copenhagen, Shanghai, Edinburgh and Moscow, and was invited to the New York Film Festival for its North American premiere.
World sales agent Global Screen has sold the rights to the US, Australia, New Zealand, Brazil, Poland and Croatia thus far. Further territories are still under negotiation. US distributor Music Box Films is planning a release on Dec 24.
On Jan 15 2015, the Academy of Motion Picture Arts and Sciences (AMPAS) will announce which five films have been nominated from all of the international entries to go forward in the final line-up to compete for the Oscar for Best Foreign Language Film.
The Academy Awards will take place on Feb 22 2015 in the Dolby Theatre, Hollywood.