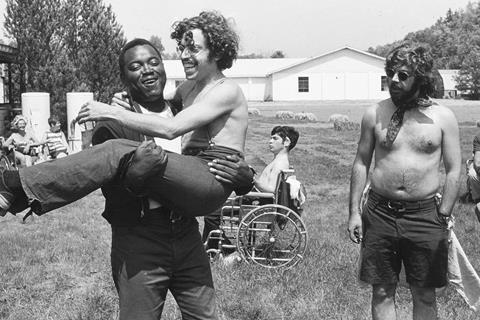 Gotham Film & Media Institute (formerly, IFP) has announced the announced its slate of 135 international and US features, series and audio projects for this year's virtual event that runs September 19-24.
The meetings-driven forum says it is the only international co-production market in the US featuring stories for multiple platforms, and hosts scheduled artist and industry meetings dedicated to furthering the work and careers of independent artists.
Previous selections include Crip Camp, (pictured), Miss Juneteenth, Monos, Swallow, My Salinger Year, and The Truffle Hunters.
Gotham Week will also feature a roster of panels, workshops, case studies, and keynote conversations. Additional details will be forthcoming.
International feature projects include Sharon Angelhart's Because You're Ugly, about an overweight trainee officer at the Israeli Defense Forces who confronts her family; Carlos Lenin's God and the Devil's Cumbia, about a teenage musician who kills his father; Johannes Nyholm's Firehawks, in which a conman searches for deeper meaning after he breaks his neck; and Shuchi Talati's Girls Will Be Girls, about a teenager whose coming-of-age is hijacked by her mother who never rebelled when she was a youngster
From the US comes, among others: Maggie Briggs's Prone to Wander, in which a girl comes of age over the course of one summer; Sushma Khadepaun's Salt, about an American sitcom enthusiast in India who orchestrates her arranged marriage and moves to America; Alika Maikau's Moloka'i Bound, about an ex-con looking to reconnect with his son and heritage; and Kana Hatakeyama's Japan-set Dollyamory, about a sex doll named Rina.