Grindstone Entertainment acquires North American distribution rights for Shakespeare adaptation ahead of its world premiere at the Venice Film Festival.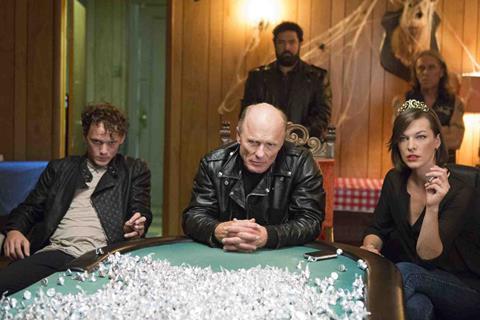 Grindstone Entertainment has acquired all North American rights to Cymbeline, which will receive its world premiere at the Venice Film Festival (Aug 27 - Sept 6) tomorrow.
The contemporary adaptation of Shakespeare's play is directed by Michael Almereyda and features dirty cops and a drug dealing biker gang in a corruption-riddled America.
It stars Ethan Hawke, who Almereyda directed in his 2000 adaptation of Hamlet, alongside Ed Harris, Milla Jovovich, John Leguizamo, Penn Badgley, Dakota Johnson and Anton Yelchin.
The film will be distributed in spring 2015 by Lionsgate Home Entertainment.
Producers are Michael Benaroya of Benaroya Pictures and Anthony Katagas of Keep Your Head Productions.
CAA negotiated the deal on behalf of the filmmakers and Barry Brooker, Stan Wertlieb and Ryan Black on behalf of Grindstone.
Grindstone partners Brooker and Wertlieb said Cymbeline was "a visionary film with an amazing cast".
Executive producers are Ben Sachs of Benaroya along with Brooker and Wertlieb. Co-producer is Andrew Fierberg.
International Film Trust is handling international rights to the film.