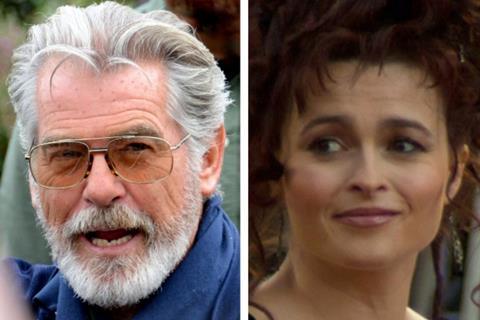 Helena Bonham Carter and Pierce Brosnan will star in Cornerstone Films' AFM rom-com Not Bloody Likely.
Joel Hopkins (Last Chance Harvey, Hampstead) will direct the true story about the 1914 West End production of George Bernard Shaw's Pygmalion.
Brosnan will play Shaw, who after writing his masterpiece is determined to get Pat Campbell (Bonham Carter), an old flame, to play Eliza Doolittle, the flower girl who is taught how to speak like a duchess.
The story will be told through the eyes of a naive producing assistant who also experiences romance during the production.
Not Bloody Likely was developed and is produced by Adam Rolston and David Braithwaite (A Street Cat Named Bob, A Christmas Gift From Bob) under their new Studio Pictures. It is earmarked to start production in the UK in spring 2021.
Cornerstone Films is handling worldwide sales and will commence talks with buyers next week.