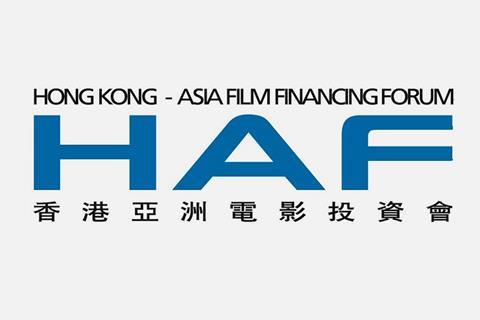 The 17th Hong Kong - Asia Film Financing Forum has unveiled the 23 projects in search of financing, co-production partners and sales to the local and international industry in Hong Kong from March 18-20.
They include new projects from Japanese director Ryusuke Hamaguchi whose Asako I & II screened in main competition at Cannes last year, a $10m romantic drama from Hong Kong's Barbara Wong Chun-chun called The Wedding Celebrant, and three projects from Filippino filmmakers who have all participated previouslyl in HAF. (See full list below.)
"The number of first-time directors, along with returning and established filmmakers, coming to this year's Hong Kong - Asia Film Financing Forum stands as testament to our ability to help develop and promote cinematic and artistic creativity in the region," said Jacob Wong, HAF director.
HAF has also sealed a new partnership with Italy's Far East Film Festival in Udine, the largest film festival in Europe devoted to Asian cinema. The festival will select one of the HAF projects to present at the Focus Asia, FEFF's project market dedicated to new cinema which takes place in Udine in April.
HAF has also expanded its awards by securing new sponsors in Heaven Pictures (HK) Culture and Media Co., and Artention-Vanke Cultural Industry Corp. Heaven Pictures will present the best young director award with a cash prize of HK$150,000 ($19,000) while the Artention-Vanke film award will be presented to the project exhibiting both commercial and artistic qualities. In addition to a cash prize of HK$100,000, the winning project will also receive free access to designated space in the Artention-Vanke Creative Arts Incubator in Shenzhen, China, getting fully linked with high-quality resources from Artention and Vanke, to create world-renowned projects.
The event runs alongside Hong Kong Filmart, the Hong Kong International Film Festival and the Asian Film Awards and will take place at the Hong Kong Convention and Exhibition Centre.
HAF 2019 line up
The Wedding Celebrant (HK)
Dir. Barbara Wong Chun-chun
Romantic drama about marriage officiant who begins to wonder if she has married the right man.
The Secret Diary Of A Mom To Be (HK)
Dir. Yee-sum Luk
Drama about a businesswoman who finds herself surprisingly and reluctantly pregnant.
Solitary Kills (HK)
Dir. Siu-hong Cheung
Directorial debut by the costume designer and production designer of acclaimed films by Wong Kar-wai and Johnnie To. The story of seven long souls interwoven through three stories.
Wong Tai Sin Assassination (HK)
Dir. Hoi Wong
Comedy drama celebrating Hong Kong culture set at a temple where worshippers visit to hear their fortunes.
Ship Of Fools – Pandora's Box (Mainland China)
Dir. Liang Zhao
Documentary about the ruined lives and environments following nuclear disasters.
A Story Of Hers (Mainland China)
Dir. Wenjia Zhao
Comedy drama based on a chapter from Zhao's last novel about the relationship between an aspiring journalist and her conservative mother
12. x 4 (Mainland China)
Dir. Miaomiao Liu
The director taps into her own experience with bipolar disorder in a drama about woman suffering with the disease.
The Priest In The Village (Mainland China)
Dir. Renai Yongyao Wei
Supernatural drama about a cleric caught between a private family matter and community duty.
Who Is Sleeping On My Pillow (Mainland China)
Dir. Xin Zhu
Zhu's second feature is about a disabled painter, his caretaker and a former girlfriend
Through The Crack Of The Parallel Universe (Mainland China)
Dir. Cheng Chen
An atypical love story set in Beijing about young lovers – a painter and a poet – who work at low-end jobs.
Our Apprenticeship (Japan)
Dir. Ryusuke Hamaguchi
A story of love and friendship and non-traditional sexual orientations as a young woman moves to Paris to study at art school.
Seeing Nara Again (Japan)
Dir. Pengfei Song
An elderly Chinese woman travels to Japan to look for the missing Japanese daughter she adopted after the Second World War.
Forgiveness (Japan)
Dir. Yoshinori Sato
A widow questions her decision to forgive the woman who killed her husband 20 years earlier.
Cherry And Virgin (working title) (Japan)
Dir. Masanao Kawajiri
Animated feature that will take a bittersweet look at love and break-up.
Between Sea And Sky (Philippines)
Dir. Jun Robles Lana
Real-life survival drama about a Filipino fisherman who was rescued in Papua New Guinea after drifting at sea for 56 days.
Circa (Philippines)
Dir. Adolfo Alix Jr
Drama about a legendary (and fictional) figures in the Philippine film industry as it prepares to celebrate its centenary.
The Grandstand (Philippines)
Dir. Mikhail Red
Real-life drama based on the 2010 Manila hostage crisis in which a disgruntled police officer seized a bus filled with Hong Kong tourists.
Life's A Struggle (Taiwan)
Dir. Tom Shu-Yu Lin
Musical biography of Taiwanese rapper Shawn 'M80' Sung who died of cancer in 2002 and his younger brother Ting, and their time spent living in Los Angeles, and how he came to create the most famous Mandarin hip-hop song in history, Life's a Struggle.
Living (South Korea)
Dir. Hee-jae Jeong
Thriller about a female contract killer who decides to protect her target's daughter and finds herself on the run from gangsters. From the director of A Haunting Hitchhike in 2017.
Belonging (Bangladesh)
Dir. Abid Hossain Khan
Debut documentary examining the tragedy of the Muslim-majority Rohingya people. It follows a six-year-old child as she starts a journey to find her parents at refugee camps in Bangladesh after becoming separated from them while fleeing Myanmar.
Away We Go (Malay-Taiwan–HK)
Dir. Kang Sze Wen
Debut drama about a Hong Kong gangster who wants to live in Taipei and an aspiring Taiwanese actress who wants to go Hong Kong. Their paths cross but they never meet each other.
I Wish I Could Hibernate (Mongolia)
Dir. Zoljargal Purevdash
A further feature debut in the selection, I Wish I Could Hibernate is a drama about a poor but proud teen who dreams of winning an Academic Olympiad. But first, he and his siblings must survive the bitter winter in Ulaanbaatar's Ger district.
Zalava (Iran)
Dir. Arsalan Amiri
Amiri's first feature is a comedy horror set in a village terrified by demonic possession where an agnostic police officer arrests an exorcist on fraud charges when he claims to capture an invisible demon, thereby challenging local beliefs.