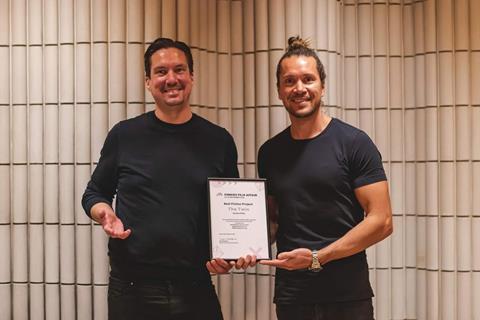 Taneli Mustonen's English-language horror feature project The Twin has won the best fiction award at the Finnish Film Affair (FFA) 2020.
The film is produced by Don Films and is about a deceased twin that will not leave his family alone. The film is in production now for a planned launch in 2021.
The feature is being sold by Film Constellation, which previously handled Mustonen's 2016 international hit Lake Bodom. It is being produced and is co-written by Aleksi Hyvarinen.
"This elevated horror piece speaks to a bigger thematic with its exploration of grief, giving a unique twist to the genre," said the international industry jury in a statement. "The Twin is a stand out in terms of global potential, and a film that would travel well across different platforms."
The FFA presented a new award this year for best documentary, which went to The Mission, a portrait of young Mormon missionaries. It marks the feature directorial debut of Tania Moilanen and is produced by Isabella Karhu for Danish Bear Productions.
The documentary jury said: "With the USA continuing to close its borders, The Mission portrays an intimate attempt to retain a dialogue with the outside world, even if that dialogue is undertaken by evangelizing Mormons within an ostensibly secular Finland."
Each project is awarded $3,500 (€3,000) for international marketing costs.
The filmmakers pitched in Covid-19 safe conditions from a cinema in Helsinki during the FFA's ninth edition while international industry watched the pitch sessions online.
The hybrid event showcased nearly 50 Finnish projects and Nordic debuts to 400 industry professionals, in Helsinki and online.
Further notable projects included Our Land Our Future, Suvi West's documentary about indigenous Sami people defending their rights; Tonislav Hristov's The Last of the Seagulls, about an aging male escort in Bulgaria; animal rights activist portrait We Are Animals, directed by Vesa Kuosmanen and Saila Kivela; Teemu Nikki's A Blind Man Who Did Not Want to See Titanic, which won the Eurimages award in Haugesund; and family fantasy film Sihja from veteran director Marja Pyykko.
For the first time, the FFA curated a Nordic Selection of debut features from its Nordic neighbours. Those were Karoline Lungbye's Superposition from Denmark; Frida Kempff's Knocking from Sweden; Quake by Tinna Hrafnsdóttir from Iceland, and Ninjababy by Yngvild Sve Flikke.