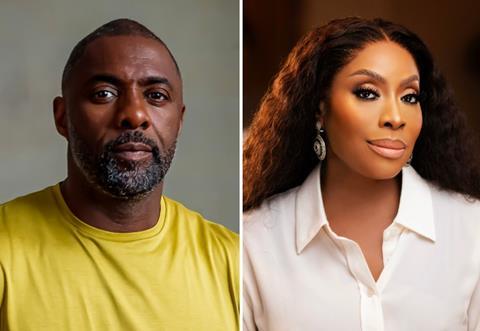 Idris Elba's Green Door Pictures and Nigeria-based Mo Abudu's EbonyLife Media have partnered to create a film and TV development slate that will focus on authentic, Afro-centric stories that resonate with audiences around the world.
The execs also said that new education and mentoring initiatives will launch through the partnership, with the aim of nurturing a more inclusive and diverse media landscape, where stories from Africa and its Diaspora are given the same level of attention and respect as other cultures and communities. The partnership will support graduates from EbonyLife's academy in Lagos Nigeria.
The development slate will comprise of stories originating out of Africa or set in the Diaspora as feature films and TV series for the global market. The co-productions between Green Door Pictures and EbonyLife Media aim to provide a range of content for broadcasters and streamers as well as for theatrical distribution globally.
Elba and Abudu have called on industry leaders globally, the public sector, governments, and multilateral agencies, to help them grow talent globally and build capacity around the continent of Africa.
Elba said: "I have always been passionate about using my platform to make a positive impact. By partnering with Mo, we aim to offer free, world-class industry education to the next generation of storytellers and bring their authentic voices to the forefront. This partnership is a step towards creating a more inclusive and diverse media landscape, one that represents the voices and experiences of Africa and its Diaspora around the world."
Abudu said: "We believe that Africa has the talent and the stories to captivate the world. It's our mission to offer the best in industry education, mentorship, and production opportunities, so that our graduates can become valuable contributors to the global media landscape. We plan to hit the ground running and explore the very best that African and Black stories have to offer global audiences."
EbonyLife Media has agreed several co-production deals with international studios, including: a three-year deal with Sony Pictures Television (SPT) for co-production of The Dahomey Warriors and other titles; Nigeria 2099, a futuristic crime-drama, with AMC Networks; a multi-title deal with Netflix to create two original series and several films; a slate of co-produced film and television projects with Will and Jada Smith's Westbrook Studios; Reclaim with BBC Studios; and Queen Nzinga with Starz and Lionsgate.
EbonyLife Studios, Universal Studios and Will Packer Productions are teaming up to develop an untitled project, based on Evan Ratliff's Bloomberg article, The Fall of the Billionaire Gucci Master.
Green Door Pictures was founded by Elba. Its scripted television credits include the upcoming Hijack for Apple TV+ written by George Kay and starring Idris Elba produced by 60Forty Films and Idiotlamp Productions in association with Green Door Pictures.
Other television credits include Sky One comedy In The Long Run, created by and featuring Elba in co-production with Sprout Pictures and Netflix comedy series Turn Up Charlie, a co-production with Brown Eyed Boy.
Movie credits include Concrete Cowboy in collaboration with Neighborhood Film Co., Tucker Tooley Entertainment and Lee Daniels Entertainment for Netflix and A Diva's Christmas Carol for VH1 starring Ashanti, Vivica A. Fox, Robin Givens, Eva Marcille and Mel B.