One idea presented at the film industry futures event was dubbed "the Tinder for movies".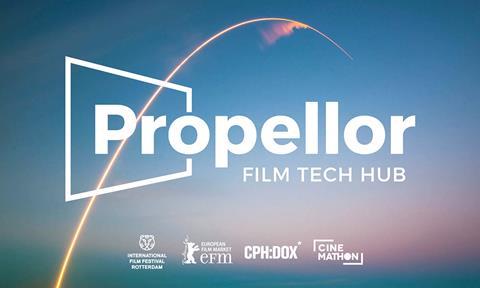 The inaugural edition of the Propellor Film Tech Hub launched last night (Jan 31) with a kick-starter event at the International Film Festival Rotterdam (IFFR).
Run as a joint initiative between IFFR, Berlin's European Film Market (EFM), Copenhagen-based film festival CPH:DOX and Berlin-based film innovation studio Cinemathon, the event sees a selection of personnel from the film industry, tech industry and further afield invited to collaborate on the development of a series of embryonic ideas designed to aid the future of the film industry.
"We always want to be part of innovation," IFFR festival director Bero Beyer commented to Screen, "Let's lay the groundwork of an infrastructure and see if something can grow out of that. [The film industry] has been like polar bears on a melting piece of ice for too long, we have to dive in and be fearless about innovation."
"The film industry is in a great bubble, but sometimes you have to burst that," added Marit van den Elshout, IFFR's head of industry, "We want to create a platform for people to test their ideas and to get new insights from various perspectives including financing and marketing."
There were 85 applicants from 16 countries to the initial event, with the selected 44 hailing from countries including the UK, France, Sweden, Estonia, and The Netherlands.
Initially, nine projects will be pitched and developed at the IFFR kickstarter event, with two of those then put forward (one voted for by the event's mentors and one by the participants) to take centre stage at tonight's CineMart awards. There, they will be pitched in front of the entire CineMart audience, with attendees able to crown one of the projects as the winner, meaning it will travel to a Propellor bootcamp held in Berlin in summer 2017.
The mentors include Sten Saluveer, had of special projects at the industry strand of Tallinn Black Nights Film Festival and the founder of the Storytek Creative Accelerator, Hengameh Panahi, president of Paris-based sales outfit Celluloid Dreams, and Marieke Jonker, head of content at exhibitor Vue Netherlands.
"These kind of initiatives are very necessary. There is a lot of talk about how we should revolutionise European filmmaking. The whole economy is moving more into a start-up logic. Film and start-ups are quite similar ideas, it's all about your team, your idea, and your audience. It's very high-risk but also potentially very high-benefit. These two industries don't get together at all, that's why we need to do these kinds of events," commented Saluveer to Screen.
Full details on the participating projects are not being revealed until they have been developed through the Propellor process today (Feb 1), but ideas include a project billed as 'the Tinder for movies', as well as a subscription app that allows users to book empty seats in film screenings, and a website that connects filmmakers with a database of crew and personnel.
"There are many opportunities in the film industry to develop content or to set up a co-production, but there is not a single place or program dedicated to the development of new business models for production, distribution and experience of films. With Propellor we aim at becoming the main marketplace for business innovation in the film industry," commented Cinemathon managing director Erwin Schmidt.
"The main aim at this point is to understand how we can create a real impact. We want to help these ideas get off the ground; people are looking for inspiration, insights, and a community. The goal is to understand how we can give Propellor continuous movement. We want this to be the beginning of the process," Schmidt added.
More info on Propellor Film Tech Hub can be found on the initiative's official website.