Christopher Nolan's sci-fi epic holds off competition from Nightcrawler.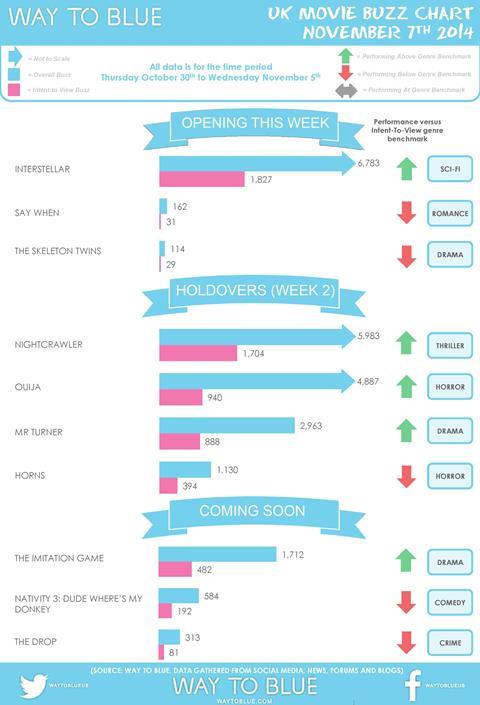 Intersteller has rocketed to the top of the UK social media buzz charts ahead of its nationwide release, according to Way to Blue.
Christopher Nolan's sci-fi epic, starring Matthew McConaughey, generated nearly 6,800 comments from Oct 30 to Nov 5, of which 27% expressed intent to view.
It dwarfed other titles set for release this weekend including Keira Knightley comedy Say When (aka Laggies) and sibling drama The Skeleton Twins, starring Bill Hader and Kristen Wiig – which drew just 162 and 114 comments respectively.
After its first week on release, Jake Gyllenhaal's dark turn in Nightcrawler generated the second highest number of comments, with nearly 6,000 mentions and a strong 28.5% expressing intent to view.
Horror Ouija came third, summoning nearly 4,900 comments with around a quarter of those looking to turn tweets into tickets.
Mike Leigh's Mr Turner also generated some decent chatter online with nearly 3,000 comments across social media, news, forums and blogs. Nearly a third of all mentions expressed an intent to view.
Of the films coming soon, Benedict Cumberbatch's performance as Alan Turing in The Imitation Game generated more than 1,700 comments, with 28% keen to see the biopic.