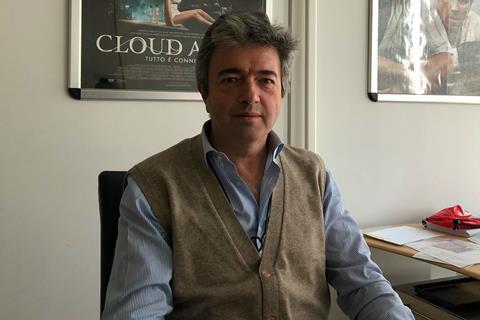 Italian distributor Eagle Pictures has unveiled details of its new film and TV production arm which will be run by the company's Roberto Proia and Maria Grazia Vairo.
Proia will spearhead the development of projects originated by Eagle and Vairo will manage international co-productions in which Eagle is a minority partner. Both Proia and Vairo will retain their existing roles at Eagle as head of theatrical distribtion and head of feature acquisitions respectively.
Eagle, whose biggest releases this year are Midnight Sun and The Commuter, has previously dabbled in production as the on-the-ground line producer for international feature projects shooting in Italy including Matthew Vaughn's two Kingsmen films, Alcon Entertainment's Point Break and Michael Bay's upcoming 6 Undergound for Netflix.
Gianluca Leurini, line producer on these shoots for Eagle, will work with Proia and Vairo to executive produce projects. He will be supported by Giulia Spighi, a member of Eagle's acquisition team.
Eagle also produced the Taviani brothers' The Lark Farm in 2007 and Edoardo De Angelis' Mozarrella Stories in 2011.
Owned by Tarak Ben Ammar's Paris-based Quinta Communications, Eagle is the latest international independent distributor to respond to the challenge of finding mid-budgeted commercial content by moving into production itself.
"Finding important projects at markets is becoming increasingly difficult. The distribution market is now huge, possibilities are shrinking for an independent company like ours that doesn't have a broadcaster to back it. Producing important movies and tv series seems the only way to obtain their rights," explained Andrea Goretti, CEO of Eagle Pictures. "We want to span multiple genres from thriller to romantic to family productions."
He revealed Eagle is in talks to board TV series Omerta, the third novel in Mario Puzo's Godfather trilogy which is being developed by Antoine Fuqua to which Sylvester Stallone is attached to star.
Eagle recently co-produced Jean-Jacques Annaud's TV series The Truth About The Harry Quebert Affair, starring Patrick Dempsey, with MGM.
Shooting in 2019
The company has already announced two productions set to shoot in 2019. The first to go will be Dampyr, an adaptation of a comic book series about vampires to be co-produced by Eagle with Italian comic book giant Sergio Bonelli Editore, and Italian production outfit Brandon Box as minority partner. Eagle plans to unveil first footage at a dedicated event at ComicCon in San Diego in July 2019.
The second is Alberto Ferrari's feature comedy A Son Named Erasmus, about a group of university friends who are reunited some years later by the death of one of the group.
In development is a series about Nostradamus that Eagle is working on ith producer Fabio Conversi. "It's a project dealing with politics, religion and inquisition spanning through Italy, Spain and France a big international series," Goretti explains.