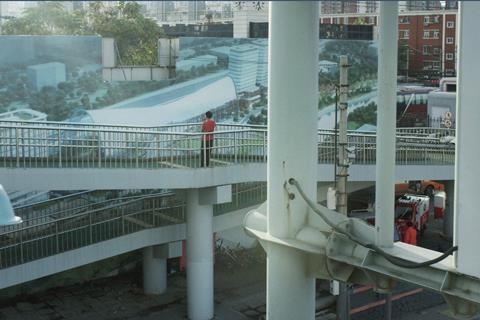 The 20th Jeonju International Film Festival's Grand Prize in the International Competition has gone to From Tomorrow On, I Will, directed by Ivan Markovic and Wu Linfeng.
Running May 2-11 this year, the fest held its awards ceremony last night (May 8) and will close May 11 with Guy Nattiv's Skin, starring Jamie Bell.
A China-Germany-Serbia co-production which made its world premiere in the Berlinale Forum, From Tomorrow On, I Will follows a night watchman in the megacity of Beijing.
Festival director Lee Choong-jik told Screen, "In the first five days of the festival, including Opening Day, out of 362 we had 259 screenings - including 52 VR cinema - sold out, hitting a record 71.5% of sold-out screenings. Compared to the same period last year, that's 66 more sold-out screenings, and I think that shows audiences' enthusiastic reaction towards the 20th edition's programme.
He added that what he once thought might seem "difficult" to cinema-goers - in the festival's focus on independent and alternative cinema - has grown the festival over the years.
Another film that world premiered in the Berlinale Forum this year, Homing, picked up Jeonju's Best Picture Prize. The Brazil-Germany co-production about a Brazilian cowboy who faces down trauma was directed by Helvecio Marins Jr.
The director, in addition to thanking the jury and programming team, noted: "The 100 years of Korean Cinema section was fantastic to get the history of Korea" and echoed other winners in praising the tasty cuisine for which the city is such a draw.
The International Competition jury was made up of Taxidermia director Gyorgy Palfi, Viennale festival director Eva Sangiorgi, 120BPM actor Nahuel Perez Biscayart and Along With The Gods producer Won Dong Yeon.
They awarded a Special Jury Prize to Kavich Neang's Cambodia-France co-production Last Night I Saw You Smiling, a documentary about the hundreds of families including the director's who were forced to evacuate a building in Phnom Penh ahead of demolition.
The Korean Competition's Grand Prize went to Scattered Night, directed by Kim Sol and Lee Jihyoung, while the CGV Arthouse Award for Distribution Support went to The Sea Of Itami Jun directed by Jung Dawoon. The CGV Arthouse Award for Upcoming Project went to Move The Grave, directed by Jeong Seung-o.
Executive programmer Kim Youngjin says Jeonju IFF has been working to expand the market for independent and alternative films.
"I think there have been more than a few instances where films that screened at Jeonju are released in theatres with the Jeonju film festival brand and have reaped success - for instance, Attila Marcel, Spy Nation and Our President (aka Project N)," he said.
Films chosen to be in next year's Jeonju Cinema Project are Park Kunyoung's A Far Place and Ted Fendt's Outside Noise. Both will receive $85,000 (KW100m) for production support and make their world premieres at Jeonju in 2020.