Will Smith also called for more "black folks" as the Cannes jury faced the press.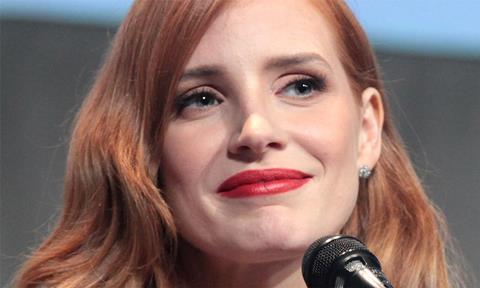 Cannes Jury member Jessica Chastain told press that the representation of women in the Competition films "concerned" her.
At a press conference after the awards were handed out (the full list of winners are here), she said: "I am surprised at how the world views women and how female characters were represented [in the Official Selection films]. It concerned me - I was surprised at the representation of female characters on screen in these films.
"I hope when we include female storytellers they will be more like the women I know in my day to day life. They are proactive, have their own point of view and don't just react to men around them."
Toni Erdmann director Maren Ade added: "Men surround this profession," she said: "It's not a good impression for other women. That is wrong - we need more women doing films. We want the film business to reflect modern society. It's not there - we are missing stories women might tell."
Fellow jury member Will Smith was also outspoken with the press, saying: "A couple of black folks won't hurt things next year."
He also joked that he found the process "smooth and easy".
"I was just trying to get Pedro to stop offering me sexual favours for my vote," he said.
Read more:
Cannes 2017: 'The Square' wins Palme d'Or; full list of winners
More quotes from the press conference
Jury president Pedro Almodóvar on selecting the films:
"We all respected each other, it doesn't mean we agreed on everything, we could exchange views out of respect. No bloodshed. We respectfully discussed with each other. We all had great passion and enthusiasm when defending various films."
Bing Bing on a win for Sofia Coppola:
"I am happy to present award to Sofia Coppola - she did amazing work for the audience. We want to advocate to focus on female filmmakers in the future. This is not something I want to judge - we want to encourage female filmmakers to present female characters. I have to say Sofia won the prize not just because she is a woman but because of the film itself."
Pedro Almodóvar on "finding a masterpiece":
"[That was] something crazy I said just to be interesting for the press. There was more than one movie that made me completely mesmerised. I saw more than one film which pleased me to no end. Several times I felt I was watching a great film - comparing is not the purpose."
Pedro Almodóvar on the Palme d'Or being relevant:
"It will be relevant for me, I don't know about the rest of the world. Cinema is changing everything - the way we are watching is changing. We need and feed with fiction more than ever. So there will always be storytellers. I don't know if Palme d'Or will be important from now. For France, it will be. For the rest of the world, we are not going to disappear because the world needs storytellers and subjects to be said."
Pedro Almodóvar on BPM (Beats per Minute):
"I loved the movie - from the beginning until the end. Tomorrow we will read in the papers what people think about these awards. This is democratic jury. I am the 9th part of this jury. So… we love the movie of Campillo. It will be successful everywhere. I cried."
Will Smith on Jupiter's Moon:
"I absolutely loved Jupiter's Moon. I was raised in very religious household - I was there the whole way. Sometimes democracy sucks."