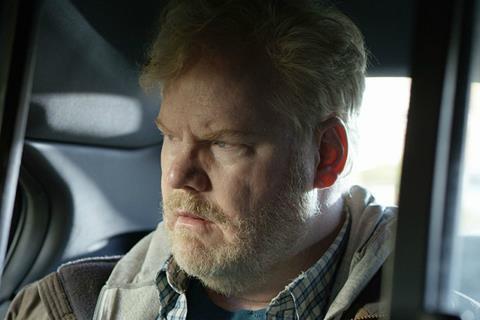 Los Angeles-based Premiere Entertainment Group (PEG) arrives at the EFM with an international sales slate comprising American Dreamer, Human Affairs, The Steam Engines Of Oz, and The Contractor.
Jim Gaffigan stars in crime thriller American Dreamer as a ride share driver who makes extra cash chauffeuring a low-level drug dealer around town and lands in hot water when a kidnapping goes wrong. Robbie Jones and Tammy Blanchard co-star. Derrick Borte (London Town, The Joneses) directed and co-wrote with Daniel Forte.
Scott Lochmus produced for Storyland Pictures, in association with the Virginia Film Office and Old Dominion University. Jonathan Gray, Mary Vernieu, XYZ Films, and Sugar Studios served as executive producers and Saban Films holds North American rights.
Love triangle drama Human Affairs centres on a New York City married couple who meet their pregnant surrogate, who forms an unexpected bond with the husband. Dominic Fumusa, Kerry Condon, Julie Sokolowski, and David Harbour star.
Charlie Birns wrote and directed the drama and Krista Parris produces alongside Brendan McHugh, Wyatt Angelo, and Birns. Thomas Campbell Jackson, Gerry Ohrstrom, and Anne Wojcicki served as executive producers. The film was supported by Tribeca All Access and XYZ Films represents US rights.
Ron Perlman, William Shatner, and Julianne Hough lend their voice talents to the animated family adventure The Steam Engines Of Oz, a new tale set in the mythical land of Oz.
Sean Patrick O'Reilly directs from his graphic novel of the same name, and produces for Canada's Arcana Studio with Michelle O'Reilly, and Dario Sanchez Diaz of 3 Doubles Producciones from Spain. Cinedigm released the animated feature on ancillary platforms in the US.
Alejandro De Hoyos stars in action film The Contractor as a mercenary hired to protect a boy from a Mexican drug cartel that murdered his parents. JoJo Henrickson directs from his screenplay. Yeniffer Behrens, DeWayne Cox, and Mauricio Mendoza produced, with Alejandro De Hoyos serving as executive producer.
"We are very proud to present these new films, which are gems in their own right," said Premiere's vice-president of acquisitions Carlos Rincon. "While completely different stories, they each excel in their respective genres."
Premiere's CEO and president Elias Axume, Rincon, and Devin Carter negotiated the deals with the producers.