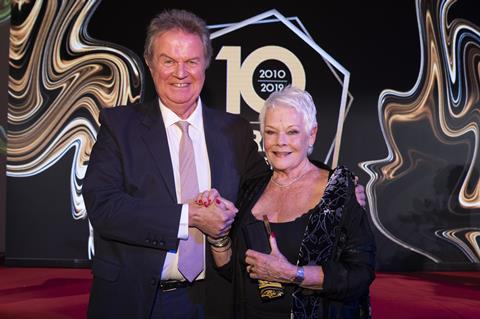 Judi Dench received the outstanding contribution to UK film prize at the Screen Awards on Thursday, November 28, presented by her regular collaborator, director John Madden.
After a series of clips from her film career were shown to guests, Dench made a speech in which she recalled being told she wouldn't progress in the screen industry over 60 years ago.
"When I was at the Old Vic in 1957, I had the chance of going up to see a famous director about a film that was about to be made," she said. "I went in and spoke to him, he was absolutely charming. And at the end of it, he said 'thank you very much for coming to see me. I have to say, I don't think that your face fits the film industry. I think probably, everything is rather wrongly arranged.'"
"So I got up, and took my chair, and put it back against the wall, and thought 'Well all I ever wanted to do is do Shakespeare, so I shall forget films'" continued Dench. "It wasn't until quite a long time after that, that suddenly a film did come my way, and I had the incredible and great and wonderful fortune to meet John [Madden]".
"I'm terribly grateful to John and to all my friends, and I shall cherish this award," she concluded.
In introducing her, Madden had described her as "Glamorous yet ordinary; serious, yet irreverent, speaks poetry like an angel, and swears like a trooper, awesome in her power, yet meek and self-effacing: she dazzles with the complexity and simplicity of what she does."
Madden has directed Dench on several occasions since they first worked together on 1997's Mrs Brown, for which Dench won the Bafta and was nominated for the Oscar for best actress.
Speaking to Screen after accepting the award, Dench said, "It feels very overwhelming – a funny, surreal feeling. I didn't know anything about the business of film acting. But looking at the actors I've worked with, I have such an admiration for them. Only by watching people who know how to do it do you learn yourself."
Commenting on the current state of the British film industry, she said she is encouraged by it, "as much as I feel encouraged by anything at the moment."
The outstanding contribution to UK film award was sponsored by Screen Scotland.
Other winners on the night included Paramount, who received the prestigious distributor of the year award; the BFI, whose Bait took best British film; and Picturehouse Entertainment, who scored two awards for their release of Capernaum.