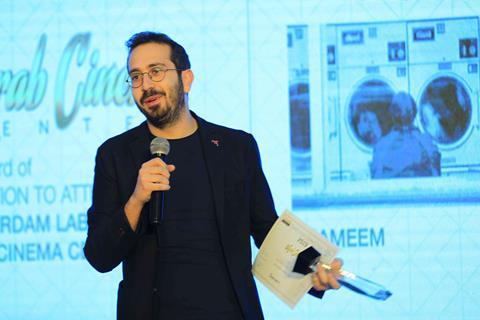 Lebanese director Karim Rahbani has won a place at the Rotterdam Lab next January after his feature project Shameem clinched one of the top prizes at the Cairo Film Connection (CFC).
The co-production platform, running November 24-26 within the framework of the Cairo International Film Festival (CIFF), awarded 16 prizes worth a combined $200,000.
Shameem revolves around a young Bangladeshi man who travels to Lebanon to work in an industrial laundry.
It will be Rahbani's debut feature after award-winning shorts Why Thy Spirit and Cargo.
It received the Arab Cinema Center award offering the film's producer, who is also Rahbani, a place on International Film Festival Rotterdam's five-day Rotterdam Lab workshop, running January 25 to 29, 2020.
In other prizes for projects at the development stage, Lebanese director Nadim Tabet won the $10,000 Arabia Pictures Award for Under Construction.
Tabet's second feature film, it will explore the complex relationship between Syria and Lebanon through the prism of a supernatural horror tale involving a Syrian construction worker in Lebanon. It is produced by Georges Shoucair at Beirut-based Abbout Productions.
It also won the Red Sea award consisting of an invitation to participate in the Red Sea Souk project market at the upcoming Red Sea Film Festival.
A $10,000 prize from Arab Radio And Television Network (ART) went to Egyptian filmmaker Maggie Morgan's Leila And I. The drama explores the personal implications of Egyptians who emigrate through the tale of a brother and sister who return to Egypt from Canada to sell their grandparents' beautiful building in Alexandria.
Yemeni-UK director Sara Ishaq's The Station won the $15,000 Badya Award. The drama is set in a woman-only petrol station in Yemen's capital of Sana'a against the backdrop of the ongoing war. It also won a script doctoring prize providing the services of Egyptian screenwriting expert Mariam Naoum.
The project is a recipient of Hubert Bals Fund support and the Jordanian Film Fund for development. Jordanian creative producer and screenwriter Nadia Eliewat, whose previous credits include When Monaliza Smiled and Solitaire, produces under the banner of her Jordan-based company Screen Project.
Post-production winners
Islam El Azzazi's drama About Her scooped two $10,000 awards provided by Saudi entertainment company Rotana and Egyptian production company New Century.
Currently in post-production, it revolves around a young woman coming to terms with the murder and loss of her husband in 1930s Alexandria. It is produced by editor and producer Dina Farouk, whose past credits include Before The Summer Crowds and Factory Girl.
Mark Lotfy and Axel Petersen's bio-doc The Life And Times Of Omar Sharif won two awards: the Leyth Production Award, offering sound mixing services, and the MAD-Ergo Award providing distribution support throughout the Middle East and North Africa.
Iraqi-Italian director Haider Rashid's upcoming drama Europa – about an Iraqi man seized by Bulgarian border control vigilantes – won the $50,000 OSN Award, consisting of a licensing award for the film from the Middle East and North Africa satellite broadcaster