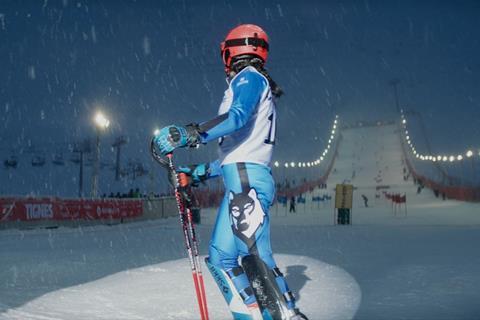 Kino Lorber has acquired US and English-speaking Canada rights to French filmmaker Charlène Favier's drama Slalom and plans to release it theatrically in April.
Set against the ski resorts of the French Alps, the debut feature stars rising French actress Noée Abita as a young alpine skiing champion who falls prey to her coach, played by Jérémie Renier.
The film was one of 15 first features to be feted with a Cannes 2020 label selection last year.
"Slalom may thrill with hyper ski action but it wins the cinematic race for its dizzying skid into innocence abused," said Richard Lorber, CEO, Kino Lorber of the appeal of the film to him.
"The true cost of a teen girl's mastery of icy slopes rises to heart pulsing metaphorical heights in director Charlene Favier's astonishing debut film."
Paris-based sales company The Party Film Sales, which first introduced the film to the market during the Cannes virtual Marché du Film in June, has also unveiled a raft of other deals.
It has sold to the UK and Ireland (Curzon), Latin America (Cineplex), China (Infotainment), Taiwan (Creative Century), French-speaking Canada (K-Film Amérique), Poland (Mayfly), the Netherlands and Flanders (Arti Film), Czech Republic (Artcam), Korea (Watcha) and Sweden (Smorgasbord Picture House).
French distributor Jour2Fête, the parent company of Party Films Sales, had planned to release the film in France on November 4 last year, but this date had to be pushed back to spring 2021 after cinemas were forced to close at the end of last October.
Unifrance RDV titles
Party Film Sales expects to seal further deals on the title at this week's Unifrance Rendez-vous with French Cinema, which officially kicks off online today and runs to January 15 inclusive. The company will be showcasing the film in an online presentation at the Rendez-vous alongside its other Cannes 2020 label titles Home Front, Last Words and feature animation Josep as well as its IDFA selection The Last Hillbilly.
The company also plans to ratchet up sales efforts on two recent French additions to its slate, Claus Drexel's documentary Ladies Of The Wood and Kurdish filmmaker Hiner Saleem's drama Goodnight, Soldier, which it announced last year's EFM.
Ladies Of The Wood is an intimate and sympathetic portrait of the lives of the gay prostitutes operating in Paris's Bois de Boulogne. It marks a return to documentary to Drexel after his Catherine Frot-starring drama Under The Stars Of Paris, which market premiered at last year's Rendez-vous.