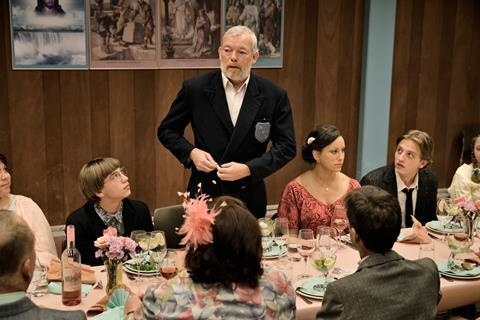 LevelK has boarded world sales rights to Henrik Ruben Genz's satirical comedy-drama Word of God, ahead of the film's international premiere at the BFI London Film Festival in the Laugh section.
Soren Malling, best known for The Killing, Borgen and A Hijacking, stars as a dominant patriarch – and self-appointed 'god' of the family – in 1980s suburban Denmark.
"Word of God is both a grotesque and affectionate story about a strange God, who becomes human. A story about a mature man, who through his death sentence realizes that he has lived the wrong life," Genz said.
Genz's previous credits include TV series Nikolaj & Julie, Better Times and The Killing, and films such as Terribly Happy.
Scanbox Entertainment released Word of God on 108 screens in Denmark last weekend, earning more than 18,000 admissions.
Word of God is an adaptation of the bestselling autobiographical novel by Danish author Jens Blendstrup. The cast also features Lisa Nilsson, Marcus Gert, Jesper Asholt, Jacob Kvols and Maria Erwolter.
Signe Leick Jensen and Morten Kaufmann produce for Toolbox Film, in co-production with Deluca Film and with production funding from the Danish Film Institute. Partners also include TV 2 and the West Danish Film Fund.
LevelK will also be selling Word of God at Busan and MIPCOM later this month.