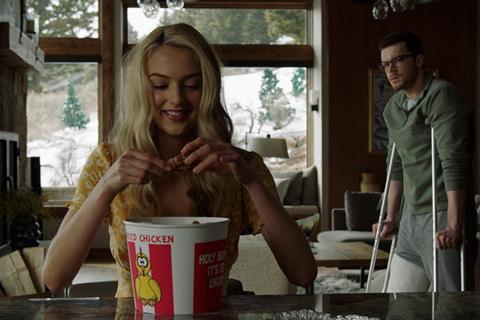 Lilly Krug, Cameron Monaghan, John Malkovich, and Frank Grillo will star in action thriller Shattered, which Capstone Group division Blue Box International has introduced to buyers at the virtual Cannes market.
Grindstone Entertainment Group has acquired North American rights on the film from Silver Reel and Construction Film about a boy-meets-girl romance that turns into a nightmare. Production just wrapped in Montana ahead of anticipated completion in autumn.
Luis Prieto directs from a screenplay by David Loughery, and the cast includes Sasha Luss, Ash Santos, and Ridley Bateman.
Monaghan (Shameless, The Giver) will play wealthy divorcee Chris Decker, who lives in a high-tech house of his own design in Montana, protected physically and emotionally from the outside world.
His life changes when he meets Sky (Krug, who just completed production on Swing opposite Michael Shannon), a mysterious young woman who draws him out of his shell and moves in after Chris is injured in a mugging, When her true agenda is revealed, Chris becomes a prisoner in his own home at the mercy of a killer.
When Chris's ex-wife (Luss) and child (Bateman) show up and they must plot their escape.
Claudia Bluemhuber is producing alongside Veronica Ferres of Construction Film, Malkovich and Prieto. Executive producers are Barry Brooker and Stan Wertlieb, alongside Christian Mercuri, Roman Viaris, Gary Leff, Gero Bauknecht, Gerd Schepers, Florian Dargel, Alexander Jooss, and Mike Leahy.