EXCLUSIVE: Quirky road trip comedy follows journey from Italy to small village in Carpathian Mountains in Ukraine.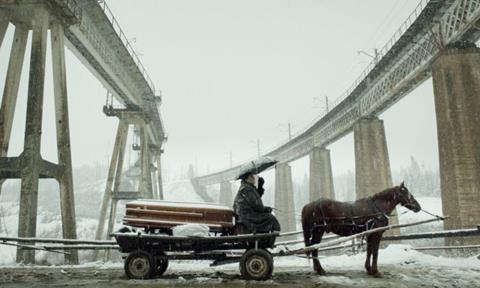 Paris-based sales company Premium Films has announced first deals on Italian director Andrea Magnani's road trip comedy Easy (pictured) ahead of its premiere in the Filmmakers of the Present competition at Locarno.
The debut feature has sold to China (Lemon Tree), Turkey (Fabula) and Ukraine (Multi Media Distribution) ahead of the screening. Tucker Film will release the picture in Italy on August 31.
Rising Italian comedy actor Nicola Nocella stars as a Isidoro, a former teenage go-cart champion going by the nickname of Easy, who has fallen prey to depression and obesity in adulthood.
His dynamic, ultra-successful brother Filo gives Easy a challenge that will get him behind the wheel again: to drive a coffin from Italy to a small village in the Carpathian Mountains in Ukraine.
It is an Italian-Ukrainian co-production involving Kiev-based Fresh Production Group alongside Italy's Pilgrim Film and Bartlebyfilm. There will be an industry screening Aug 5, ahead of its premiere on August 8.
Other deals
Premium has also unveiled new deals for Chilean film-maker Fernando Guzzoni's award-winning drama Jesus set against the backdrop of Santiago's LGBT youth culture scene.
The feature, which kicked off its festival career in Toronto before heading to San Sebastian last year, has sold to Hungary (Cinefil Co.), Sweden (Novemberfilm), Poland (Tongariro), Spain (Cameo) while Skopje-based CutAway has picked up rights for Macedonia, Croatia and Slovenia.
As previously announced, the film was acquired up by Breaking Glass for the US, where it will released at the end of the summer.
Jesus was one of the first recipients of France's Aide aux Cinéma du Monde Distribution support run by the National Cinema Centre (CNC) aimed at supporting innovative distribution strategies.
In other recent deals, Premium has sold Bhutan director Dechen Roder's spiritual film noir Honeygiver Among The Dogs to the UK (Day for Night) and Poland, where it is being released by the festival and distributor Five Flavours Film Festival.
Jan Roeloff's Paris-based Jupiter Films will release the film in the French speaking territories of France, Switzerland and Belgium this autumn. Honeygiver Among The Dogs premiered at Busan last year ahead of also playing in Berlin's Panorama section.
Upcoming titles on Premium slate include Finnish Hannaleena Hauru's debut feature Thick Lashes of Lauri Mäntyvaara for which a festival berth is expected to be announced imminently.
The tale of two teenage wedding party saboteurs, the film is produced by Jussi Rantamäki's Aamu Film Company, the outfit behind Cannes Un Certain Regard winner The Happiest Day In The Life of Olli Mäki.