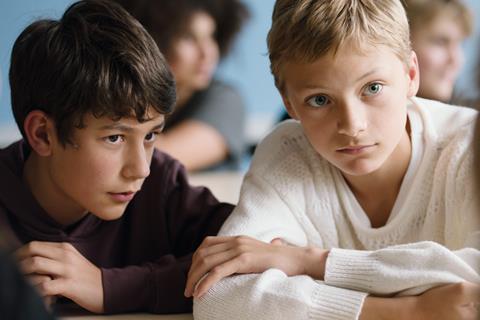 Belgian filmmaker Lukas Dhont's Close won the top prize at the Sydney Film Festival on Sunday evening (June 19), adding to the Grand Prix it picked up at Cannes last month.
Accepting the Sydney Film Prize via video message, Dhont said that he was "incredibly proud and incredibly happy", adding that he hoped the audience enjoyed the film and that it meant something to them. The award includes a cash prize of $42,000 (A$60,000).
"This film displayed a mastery of restraint, subtle handling of story, astute observations and delicate attention to finer details," said actor and international jury head David Wenham. He further praised its "inspired cinematography and flawless performances," and described it as "a mature film about innocence".
Dhont's second feature, about the tragic disintegration of a boyhood friendship, premiered in Competition at Cannes last month where it won a Grand Prix and has already been sold to around 100 territories by The Match Factory.
Close was one of 12 titles that played in competition at the 69th edition of the festival, which also included Carla Simon's Golden Bear winner Alcarràs; Colm Bairéad's Irish-language drama The Quiet Girl; and Alejandro Loayza Grisi's Bolivian eco-drama Utama.
The Documentary Australia Award of $7,000 (A$10,000) went to Keep Stepping from director Luke Cornish, who worked on the film for seven years and wrote it with producer Philip Busfield. It follows Gabi, who is of Chilean-Samoan ancestry, and Romanian-born Patrix, two young women intent on excelling in an annual international street dancing competition in Sydney while finding a better life for themselves.
The Sustainable Future Award, now in its second year and also worth $7,000 (A$10,000), went to Karl Malakunas' Delikado, about the battle to save rainforests on the Filipino island of Palawan. Accepting the award at the State Theatre, Malakunas said the recognition would be of great value in focussing attention on the environmentalists and their cause.
The Deutsche Bank Fellowship for First Nations Film Creatives, worth $14,000 (A$20,000), will enable actor/director Kylie Bracknell to be mentored by producer Robyn Kershaw, while working on the comedy The Great Emu Wars, which has John Cleese attached as actor and one of four writers. Bracknell will co-produce, oversee the indigenous content, and write the Noongar characters for the retelling of a post-war story about Western Australia mounting a military campaign against the emu population.
"It is totally appropriate that the first big Hollywood film on Noongar land is a comedic celebration of how Country itself can turn the tables on imperialism," Bracknell told Screendaily.
The film is expected to be shot next year. No director is confirmed. Bracknell said one-third of the fellowship would go to daycare fees for her four-year-old son, something that makes her feel "seen as a mother" in the industry. She has been in the industry for 25 years, predominantly in theatre, and is working towards directing and producing her own project.
The Sydney-UNESCO City of Film Award went to composer Caitlin Yeo. The award comes with $7,000 (A$10,000).
Two shorts, the indigenous animation Donkey and The Moths Will Eat Them Up, won two prizes each.
This year's in-person festival was compiled in six months after the previous edition was held in November after two date changes as a result of Covid-19 restrictions.