EXCLUSIVE: Paris-based company launches first TV drama.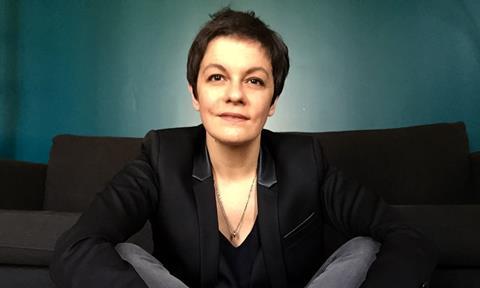 On the eve of MIPTV (April 3-6), Paris-based mk2 films has acquired world sales rights to TV drama series Pink Flamingo, about a transgender man who returns to his native France after a 12-year absence to help track down his missing father.
The French-language series – written by Raphaëlle Roudaut and Virginie Sauveur [pictured] – revolves around Jules Rivière, who heads home after undergoing gender transformation surgery in Berlin and Montreal.
His sudden appearance upsets his already fragile family balance, not least because he was a young woman called Julie the last time his relatives saw him.
The series follows Jules' search for his father, at the same time exploring what led to his decision to undergo gender transformation surgery. In the backdrop, he struggles with French bureaucracy as he tries to update his passport to take into account his new gender. He then discovers he is pregnant.
"We're thrilled to be making our first foray into television fiction with a series of this calibre and one that also fits perfectly with our lineup of films, and most notably those of Xavier Dolan," said mk2 managing director Juliette Schrameck.
"We were immediately seduced by writers Raphaëlle Roudaut and Virginie Sauveur's delicate and tactful approach to this very modern subject and how they combined it with a suspenseful family drama with the kinds of twists and turns and excellent characters necessary to make a successful series," she added.
The series is produced by Jan Vasak at Paris-based Day For Night Productions, the joint company founded by Vasak, Sauveur and Alexandre Charlet in 2014 to focus on their own projects. Matthieu Bernard acted as script editor.
The series is co-produced by Arte France and Lena Karbe of Munich-based Tellux Film. Casting is currently underway for an anticipated delivery in 2018.
Virginie Sauveur, who previously directed four episodes of hit French police series Spiral, will direct.