Sequel to cult hit takes 25 years after events in the original.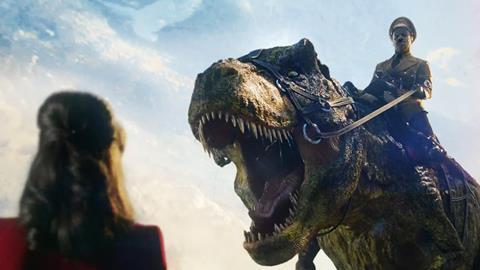 Myriad Pictures' genre label Scoundrel Media has launched handle international sales excluding Scandinavia and China in Cannes on the sci-fi action comedy Iron Sky: The Coming Race.
Udo Kier, Lara Rossi, Tom Green, Julia Dietze from Iron Sky, Vladimir Burlakov, and Stephanie Paul star in the sequel to Iron Sky, and Timo Vuorensola directs from a script by Dalan Musson.
Iron Sky The Coming Race shot in Belgium and is in post. It tales place 25 years after events in the original, when Nazis colonised the moon and launched an attack on earth.
The sequel picks up the action after a nuclear war has ravaged earth, as survivors of the fight with the Nazis attempt to recolonise earth but must contend with an army of dinosaurs guarding the Holy Grail.
Myriad president Kirk D'Amico said: "We are delighted to be working with Timo and Tero and the Iron Sky team including the folks at Pixomondo who are visual effects geniuses to bring this next instalment of Iron Sky to the worldwide marketplace.

"The patient fans and distributors will be rewarded with this highly original take on the Iron Sky universe. "
Iron Sky producer Tero Kaukomaa added: "Iron Sky is celebrating its 10th year in Cannes. There is no better present than having Myriad taking over the sales. It's a big step for the whole franchise."
Oliver Damian of 27 Films Production, and Peter de Maegd and Tom Hameeuw of Potemkino also serve as producers.