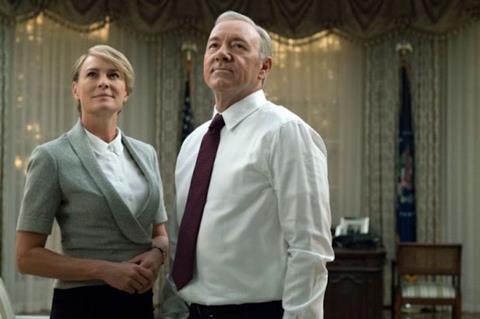 House Of Cards is officially ending with its forthcoming sixth season.
The announced ending of Netflix's political drama comes less than 24 hours after actor Anthony Rapp, now 46, alleged House Of Cards star Kevin Spacey made sexual advances towards him when he was 14.
Sources confirmed that the decision to bring House Of Cards to an end had been in the works for several months and was not made in response to the furore that has engulfed Spacey.
House Of Cards, an adaptation of the British series and Michael Dobbs novel of the same name, premiered in 2013. The political drama was Netflix's first big push into original programming and has garnered 46 Emmy nominations, with six wins. Spacey won a Golden Globe for his portrayal of ruthless politician Frank Underwood.
Netflix and producers Media Rights Capital issued the following statement on Monday: "Media Rights Capital and Netflix are deeply troubled by last night's news concerning Kevin Spacey. In response to last night's revelations, executives from both of our companies arrived in Baltimore this afternoon to meet with our cast and crew to ensure that they continue to feel safe and supported. As previously scheduled, Kevin Spacey is not working on set at this time."
Regarding Rapp's allegations, Spacey released a statement late on Sunday in which he said: "I honestly do not remember the encounter, it would have been over 30 years ago. But if I did behave then as he describes, I owe him the sincerest apology for what would have been deeply inappropriate drunken behaviour, and I am sorry for the feelings he describes having carried with him all these years."
Spacey added: "I have loved and had romantic encounters with men throughout my life, and I choose now to live as a gay man."
House Of Cards will debut its final 13 episodes in 2018.