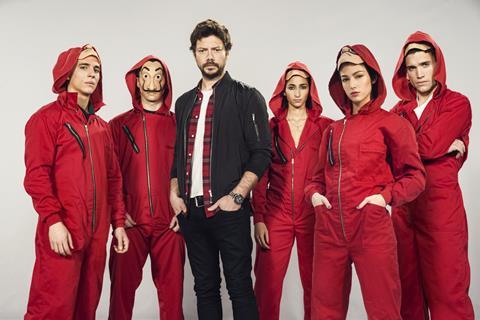 Alex Pina, the creator of Netflix's Spanish crime drama Money Heist (La Casa De Papel), has signed an exclusive overall deal to produce new series and projects for the streaming giant.
Upcoming projects that are part of the deal include series three of Money Heist - apparently the most watched non-English show on Netflix - and Sky Rojo, a female-action drama set to start production in 2019.
Pina's further TV work includes 'Locked up (Vis a Vis), The Ship (El Barco) and Paco's Men (Los Hombres de Paco) through his Vancouver Media banner.
He also directed and wrote feature Kamikaze (2004), and wrote and produced Brain Drain (Fuga De Cerebros), Three Steps Above Heaven (Tres Metros Sobre El cCelo), and Spanish box office hit I Want You (Tengo Ganas De Ti).
The announcement follows Netflix's first European overall series deal with Dark creators Baran Bo Odar and Jantje Friese in June.
Netflix has previously signed multi-year deals with US producers Ryan Murphy and Shona Rhimes.