Netflix has unveiled a slate of 18 titles that it has greenlit in Poland, spanning nine films and nine series.
See full list of titles below
News of the commissions comes just weeks after the streamer announced it is opening an office in the country's capital of Warsaw later this year, which will function as a central hub for Netflix's Central and Eastern Europe (CEE) productions.
Netflix has previously enjoyed success with Polish erotic thriller 365 Days, which was a top 10 hit for the streamer in over 90 countries. The sequel will stream from April 27.
A number of the new commissions are based on Polish books. Crime series Detective Forst – from one of Poland's top authors, Remigiusz Mroz – is billed as crime-solving journey across the Polish Tatra Mountains by a cynical yet efficient detective.
Netflix has also ordered a film adaptation of Anna Szczypczyńska's romance novel, Tonight You Are Sleeping With Me. Feedback, based on a novel by Jakub Żulczyk, tells a story of internal struggles and redemption. There's also a film adaptation Mr. Car & The Knights Templar, based on the classic Polish novel.
Elsewhere, Hellhole is billed as a film that plays with the horror genre and focuses on the nightmare of a monk who has lost his faith and needs to fight both supernatural forces and the demons of his past.
Another film - Broad Peak - is described as a dramatic and epic story about the strength of the human spirit, inspired by true events directed by Leszek Dawid.
The Hive is a catastrophic prediction of what can happen in the near future, and Freestyle, a story about a young rapper who gets himself into trouble.
The black comedy series The Green Glove Gang follows the lives of three elusive, noble thieves who hide out in a quiet nursing home.
The film Mother's Day tells the story of a former special agent (played by Agnieszka Grochowska) who must use her unique skills to rescue her kidnapped son.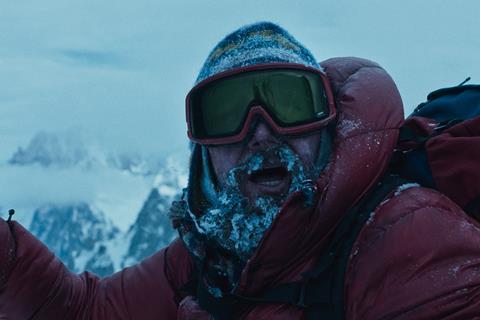 The drama series Glitter takes viewers on a sentimental journey to the Poland of the seventies, showing independent women who live by their own rules and tackle social taboos head-on.
Infamia is a series that tells the story of a teenage Romani girl who is balancing between the modern world of teenagers and traditional Roma rules while she tries to find herself.
The romantic film comedy Delivery by Christmas sees a thirty-year-old courier have to save Christmas.
The series Dark Stories centres on a group of strangers who accidentally drive off in a car with two million zlotys, coming from a bank heist.
The comedy series Family Secrets focuses on the wedding day of a medical student and a wealthy plastic surgeon when both families realise that the only things they have in common are secrets and lies.
Night In The Kindergarten is a film for fans of dark comedy - it goes wrong when a pre-school nativity play turns into a trial of a naughty 5-year-old.
The futuristic drama series A Girl And An Astronaut sees two F-16 pilots compete for one girl's heart as well as for their lifelong dream of going to space. Lovzone is a series about an aspiring filmmaker on the autism spectrum.
Anna Nagler, Netflix's head of local language series CEE and Lukasz Kluskiewicz, head of content acquisitions CEE, said: "Since the beginning of Netflix's journey in Poland, we have been in awe of the creativity of the local entertainment industry."
Last month, Netflix said it has invested around $115m in Poland over the past six years, with original Netflix films and series creating more than 2,600 jobs on its productions.
The full list of titles are below.
Films
Broad Peak (directed by Leszek Dawid)
Delivery by Christmas (directed by Aleksandra Kułakowska, Maciej Prykowski)
Freestyle (directed by Maciej Bochniak, starring Maciej Musiałowski)
HELLHOLE (directed by Bartosz M. Kowalski)
Mother's Day (directed by Mateusz Rakowicz, starring agnieszka Grochowska)
Mr. Car & The Knights Templar (directed by Antoni Nykowski)
Night In The Kindergarten (directed by Rafał Skalski, starring Matylda damięcka, Lena Góra, Aleksandra Domańska)
Tonight You Are Sleeping With Me (directed by Robert Wichrowski)
The Hive (directed by Mateusz Rakowicz)
Series
A Girl and An Astronaut (directed by Bartek Prokopowicz, starring Vanessa Aleksander,Magdalena Cielecka, Andrzej Chyra, Jędrzej Hycnar)
Dark Stories (directed by Grzegorz Jaroszuk, Jakub Piątek)
Detective Forst (directed by Daniel Jaroszek, starring Borys Szyc, based on books by Remigiusz Mroz)
Glitter (starring Wiktoria Filus, Matylka Giegżno, Magdalena Popławska, directed by Marek Lechki, Anna Kazejak, Julia Kolberger, Rafał Skalski)
The Green Glove Gang (directed by Tadeusz Śliwa)
Family Secrets (directed by Łukasz Ostalski)
Feedback (directed by Leszek Dawid, starring Arkadiusz Jakubik)
Infamia (working title, directed by Anna Maliszewska, Kuba Czekaj)
Lovzone (directed by Kamila Tarabura, Katarzyna Warzecha)
Cannes 2022: What is in the running?