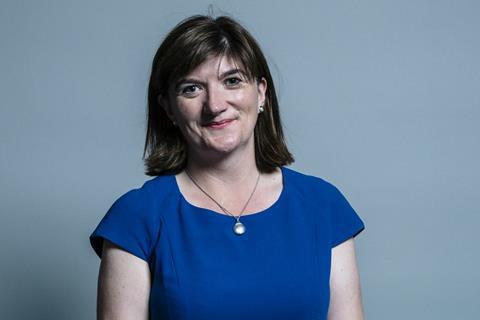 Nicky Morgan will return to the role of UK culture secretary despite standing down as an MP before last week's general election.
Morgan has been made a life peer by Prime Minister Boris Johnson's government to allow for the unprecedented move, meaning she will be the only sitting member of his cabinet that is not an MP.
It is understood her appointment could be termporary pending an anticipated cabinet reshuffle once the UK has left the European Union on January 31.
Morgan became the shortest serving culture secretary ever – just 104 days in the role – when she stood down last month citing cited "the clear impact on my family and the other sacrifices involved in, and the abuse for, doing the job of a modern MP".
Those linked to the Digital, Culture, Media and Sport (DCMS) role in the interim had included Morgan's predecessor John Whittingdale and former Sky executive Andrew Griffith.
The Conservative Party won a decisive victory last week, securing a large majority after campaigning on a central pillar to 'Get Brexit Done'. Johnson's Brexit Withdrawal Agreement is now certain to pass the Commons before the end of the year and the UK will leave the EU at the end of January.
The Conservative's manifesto is light on detail regarding culture policy but does pledge to continue support for the UK's creative sector tax reliefs.