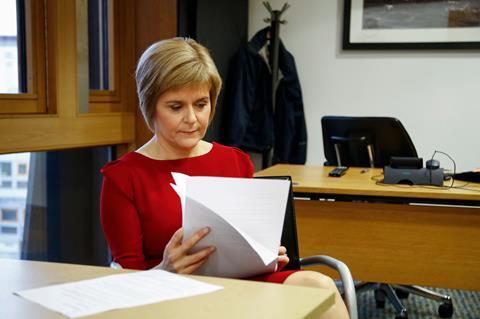 Cinemas in Scotland will remain closed for the foreseeable future, with no mention of a date for their reopening in the Scottish government's plan for easing lockdown.
The plan was announced today (February 23) by Scotland's First Minister Nicola Sturgeon. Restrictions will gradually be lifted from March 15, beginning with select age groups of schoolchildren; however the plan contained no timetable for the reopening of entertainment venues.
April 26 has been identified for a "more substantial" reopening of society and the economy, which would include non-essential retail, hospitality and services including gyms and hairdressers.
The Scottish government would not confirm whether cinemas were included in this category.
The government aims to return to a system of levels from April 26, with the whole country going into level three to begin with. Cinemas are allowed to open from level two and below.
All dates in Scotland's plan are conditional on the data showing a continued receding of the virus, and on the continued rollout of vaccines (all nine 'key groups' of most vulnerable people must be vaccinated by April 26 for the scheduled reopening to proceed). Cinemas in Scotland have been closed since December 24, when all regions have been in level three or four of the country's Covid protection scale.
Sturgeon acknowledged that a cautious approach to reopening the country is "extremely difficult for many businesses." However, she wishes to avoid "picking arbitrary dates that have no grounding at this stage in any objective assessment."
The news follows the English government's proposed May 17 date for reopening cinemas as part of the country's own lockdown easing plan.
The Welsh government has confirmed it will look at the restrictions around entertainment venues and leisure facilities in its next 21-day review, on March 12. No date has been given for cinema reopening in Northern Ireland; the country's next review will take place on March 18.
On February 23 Irish Taoiseach Micheál Martin extended Ireland's lockdown until April 5; schools in the country won't be going back until April 12 at earliest, with cinemas not reopening until after then.