Plus: Distribbber.com, Abramorama team up; and more…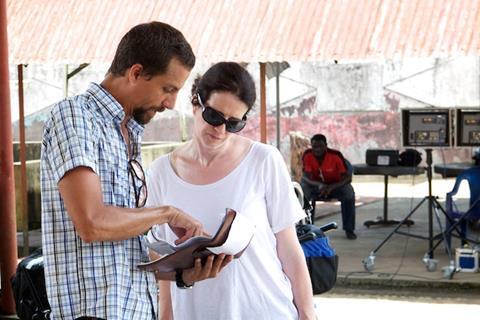 The Last King Of Scotland producer Andrea Calderwood will deliver the opening keynote at the Strategic Partners market in Halifax, Canada, next month.
Calderwood, of Potboiler Productions, most recently produced Trespass Against Us starring Michael Fassbender and Brendan Gleeson, set to screen in Toronto and Strategic Partners' sister event the Atlantic Film Festival.
Other keynote speakers include Marc Hustvedt, the founder and CEO of Peter Chernin-backed Supergravity Pictures, as well as Scandinavian TV producers Liselott Forsman and Lars Hermann.
"The programme this year is dynamic, progressive, and mindful of the issues and opportunities facing producers across the globe," said programme manager Laura Mackenzie.

"Our speakers are able to provide a unique perspective because of their background and experience, but they are living and breathing the very same challenges facing producers daily."
Strategic Partners runs from September 15-17. For the full line-up of panels and events click here.
GoDigital division and flat-fee distribution platform Distribber.com has teamed up with specialty theatrical distribution and marketing company Abramorama to provide full service global theatrical and digital distribution under the Abramorama label. The first film through the pipeline will be Charles Ferguson's climate change documentary Time To Choose. Amazon Prime Video holds exclusive streaming rights commencing September 9.
Lionsgate and Pantelion Films has set an October 14 release date for Anima Estudios' Mexican family comedy La Leyenda Del Chupacabras. Alberto Rodriguez directed from a screenplay he wrote with Azan Cohen. The producers are Fernando de Fuentes and Jose C. Garcia de Letona. Eduardo España, Benny Mendoza and Mayte Cordero star.
Canadian distributor United Front Entertainment (UFE) has signed an exclusive deal with Universal Pictures Home Entertainment whereby the studio will manufacture and distribute UFE titles on Blu-ray and DVD for the next three years. The first release will be Bite on September 6. UFE will oversee marketing and promotions. The initial UFE slate includes five Black Fawn Films titles following a deal at the Fantasia Frontieres market.
Breaking Glass Pictures has acquired North American rights to Papu Curotto's Spanish-language drama Esteros, which premiered at the Inside Out LGBT Film Festival and went on to play at OutFest and the MiFo LGBT Film Festival. Ignacio Rogers, Esteban Masturini and Joaquin Parada star in the relationship drama. Breaking Glass plans a fourth quarter theatrical release followed by DVD on November 29 and VOD to follow
Ordinary World, previously titled Geezer, will open day-and-date theatrically via Let It Play and on VOD on October 14. Green Day frontman Billie Joe Armstrong stars in the comedy with Judy Greer and Selma Blair. The film premiered at Tribeca last spring and will open in the US and most of the world via Universal Pictures Home Entertainment Content Group on DVD, digital and television. Hyde Park International handled theatrical international sales.
Kaitlyn Dever and Hannah Murray have been cast in Kathryn Bigelow's Untitled Detroit Project, joining previously announced Jacob Latimore, Algee Smith, Will Poulter, Ben O'Toole, Jack Reynor, and John Boyega. Bigelow will direct the crime drama from an original screenplay by Mark Boal. The pair produce with financier Annapurna's Megan Ellison, among others. Production is expected to begin shortly.
Production has kicked off in Colorado on Walden: Life In The Woods from Alex Harvey. The western reimagining of Henry David Thoreau's classic story stars Demián Bichir, Lynn Cohen, Erik Hellman and newcomer Tony LoVerde
Former Paramount Animation executive vice-president of production Bob Bacon has joined Chinese company Alpha Group Co Ltd's new division Alpha Animation as CEO. Alpha Group recently established its live-action feature film development company Alpha Pictures, focused on US-China co-productions based on the properties from U17.com, the Chinese online book platform that Alpha acquired last year.
Demian Gregory will produce thriller The God Four, which Gregory's Aristocracy Group and Composite Media Capital are jointly financing. Michael Douglas, Natalie Dormer, Jai Courtney and Brendan Thwaites are set to star and the producers have earmarked a spring 2017 start on the script that Sully screenwriter Todd Komarnicki will direct. Gregroy produces with Peter Winther and Lars Winther.
Room in the Sky Films and Double El Productions in association with Lexicon and producer Mark Mathias Sayre have completed principal photography on Justin Foia's psychological thriller Point Defiance starring Derek Phillips, Josh Crotty, Lauren Elaine, Sarah Butler, and Steven Swadling
Diego Risquez's El Malquerido will open the fourth annual Venezuelan Film Festival in New York, set to run from September 14-18.
Michael Shannon and Taylor Kitsch will star in Waco, a TV series that TWC is developing based on deadly events surrounding the 1993 FBI siege of a religious sect in Waco, Texas. John Erick Dowdle will direct from a screenplay he is writing with brother Drew Dowdle.