Inside the European entries to this year's foreign-language Oscar race.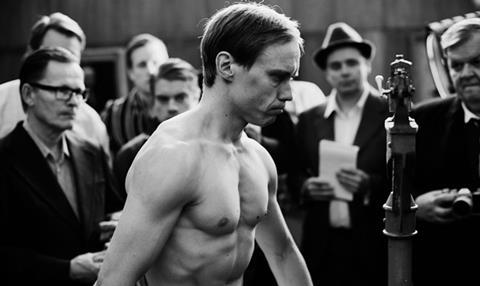 EUROPE
Afterimage (Poland)
Dir Andrzej Wajda
The final film from celebrated Polish director Andrzej Wajda, who died in October at the age of 90, is a biopic of avant-garde artist Wladyslaw Strzeminski (played by Boguslaw Linda). Afterimage picked up the Special Jury Prize at this year's Polish Film Festival, and will be released in the country in January. Wajda won the honorary award at the 2000 Oscars, in recognition of five decades of extraordinary work.
Contact: Films Boutique info@filmsboutique.com
The Ardennes (Belgium)
Dir Robin Pront
The story of a brutal robbery that goes horribly wrong, Belgium's Academy Award candidate unites local talent that has been in Oscar contention before. The cast is led by Veerle Baetens, from Oscar-nominated Broken Circle Breakdown, and the film is produced by Bart Van Langendonck, who oversaw Michael Roskam's 2012 nominee Bullhead.
Contact: Attraction Distribution xiao88@attraction.ca
The Black Pin (Montenegro)
Dir Ivan Marinovic
Debut director Ivan Marinovic's The Black Pin, a world premiere at Sarajevo earlier this year, is a comedy drama about a priest in a remote part of Montenegro who is under pressure to sell the parish land to developers. Marinovic is from the Lustica Peninsula, the setting of the film, and his screenplay is rooted in the community.
Contact: Soul Food Films info@soulfoodfilms.com
Chevalier (Greece)
Dir Athina Rachel Tsangari
Premiering at Locarno Film Festival in 2015, Chevalier went on to win the best film prize at the BFI London Film Festival and the Audience Award in Thessaloniki. Athina Rachel Tsangari's follow-up to 2010's Attenberg is set on the Aegean Sea, aboard a luxury yacht whose six male passengers decide to play an unusual game.
Contact: The Match Factory info@matchfactory.de
Chromium (Albania)
Dir Bujar Alimani
Premiering in Karlovy Vary's East of the West sidebar in 2015, Albania's 2017 Oscar hopeful is a coming-of-age story about a rebellious teenager who finds illegal work in a chromium mine in the north of the country. Co-produced with Germany, Greece and Kosovo, this is Bujar Alimani's second feature.
Contact: 90 Production 90production@gmail.com
Dawn (Latvia)
Dir Laila Pakalnina
This 2015 Tallinn Black Nights premiere explores the life - or the legend - of Soviet teen Pavlik Morozov, who also inspired Sergei Eisenstein's unfinished feature Bezhin Meadow. Telling the story of a Young Pioneer who informed on his father's anti-Communist sympathies, this black-and-white tragicomedy updates events to the 1960s in Soviet-occupied Latvia.
Contact: Dragon Horse Films craig@dragonhorsefilms.com
Death In Sarajevo (Bosnia & Herzegovina)
Dir Danis Tanovic
An Oscar winner in the foreign-language category in 2001 for his war drama No Man's Land, Bosnian director Danis Tanovic returns to the awards race with this class-struggle satirical drama set in a luxury Sarajevo hotel. Death In Sarajevo premiered at the Berlinale this year, winning a Silver Bear jury prize.
Contact: The Match Factory info@matchfactory.de
Elle (France)
Dir Paul Verhoeven
Featuring a bravura central performance from Isabelle Huppert as a woman coping in unexpected ways with a sexual assault, Dutch director Paul Verhoeven's drama has won numerous festival plaudits after playing in Competition at Cannes, and has sold to multiple territories including the UK and US.
Contact: SBS International contact@sbs-distribution.fr
Eva Nova (Slovakia)
Dir Marko Skop
Slovak film and theatre doyenne Emilia Vasaryova (When The Cat Comes) plays the title role in this drama - winner of the Fipresci prize at Toronto last year and director Marko Skop's first narrative feature - about a woman coming out of rehab who is determined to fight for the son she once abandoned in favour of her career.
Contact: Loco Films florencia.gil@loco-films.com
Fire At Sea (Italy)
Dir Gianfranco Rosi
Gianfranco Rosi's Berlin Golden Bear-winning documentary charts life on Lampedusa, a small, windswept Mediterranean island on the frontline of the migrant crisis. Rosi won the Venice Golden Lion in 2013 for Sacro GRA. At the Berlinale, Fire At Sea sold to Germany, Norway, Brazil and the UK.
Contact: Doc&Film International d.elstner@docandfilm.com
The Happiest Day In The Life Of Olli Maki (Finland)
Dir Juho Kuosmanen
Telling the true story of a 1960s Finnish boxer, this black-and-white drama had a successful bow at Cannes this year, winning the Un Certain Regard award for debut feature director Juho Kuosmanen.
Contact: Les Films Du Losange b.vincent@filmsdulosange.fr
Home Sweet Home (Kosovo)
Dir Faton Bajraktari
Kosovo's third consecutive - and third ever - entry is this co-production with Macedonia that premiered in Karlovy Vary. Drama Home Sweet Home concerns a Kosovo Liberation Army soldier whose return four years after being presumed dead in the war poses problems for his family, who are benefiting hugely from his supposed martyrdom.
Contact: N. T. Sh Cineproduction musliutrim@gmail.com
Houston We Have A Problem! (Slovenia)
Dir Ziga Virc
Feature debutant Ziga Virc labels his film as "docu-fiction", interweaving real archive footage with artful miscues to assert that Yugoslavian dictator Tito developed a secret space programme, sold to the US in a $3bn deal. Slovenian philosopher Slavoj Zizek pops up in this provocative piece of mischief making, which premiered this year at Tribeca.
Contact: CAT&Docs cat@catndocs.com
Julieta (Spain)
Dir Pedro Almodovar
Pedro Almodovar's 20th feature, Julieta stars Emma Suarez and Adriana Ugarte, and tells the tale of a broken-hearted woman who decides to confront the problems in her life that led to her estrangement from her daughter.
Almodovar won the Oscar for 2002's Talk To Her and was last nominated in the foreign language film category for 2006's Volver.
Contact: FilmNation Entertainment info@wearefilmnation.com
Kills On Wheels (Hungary)
Dir Attila Till
This rip-roaring yarn about two disabled young men and a wheelchair-bound fireman who volunteer to become hired assassins for the local Mafia has become a hit at the Hungarian box office. Earlier this year Attila Till's film, which stars disabled actors, was chosen to open the East of the West competition at Karlovy Vary.
Contact:mHungarian National Film Fund klaudia.androsovits@filmalap.hu
The King's Choice (Norway)
Dir Erik Poppe
Norwegian Oscar candidate The King's Choice has already been a huge box-office hit in its home market, and locals are hoping it will emulate the awards success of the similarly themed The King's Speech. The film is set during the German invasion of Norway in 1940, when King Haakon VII stood firm against Hitler's demand for immediate surrender.
Contact: Beta Film dorothee.stoewahse@betafilm.com
Land Of Mine (Denmark)
Dir Martin Zandvliet
Unanimously chosen as Denmark's Oscar candidate ahead of some stern competition, Martin Zandvliet's third feature Land Of Mine has been picked up for US release by Sony Picture Classics. Set in 1945, it tells the true story of how a group of German PoWs were brought to Denmark to defuse millions of Nazi landmines left scattered on the coast.
Contact: K5 Media Group oliver@k5mediagroup.com
Letters From War (Portugal)
Dir Ivo Ferreira
Could the third feature from Ivo Ferreira bring Portugal its first Oscar nomination? A Golden Bear contender, Letters From War is based on wartime letters that novelist Antonio Lobo Antunes penned to his pregnant wife when he was a combat medic in Angola in the 1970s. The letters are read over evocatively shot black-and-white images.
Contact: The Match Factory info@matchfactory.de
The Liberation Of Skopje (Macedonia)
Dirs Rade Serbedzija, Danilo Serbedzija
Internationally known Croatian actor Rade Serbedzija (Before The Rain) makes his feature directing debut - alongside his son Danilo (72 Days) - on this Second World War drama. The bittersweet story is told through the eyes of 11-year-old Zoran, whose father has joined the partisans to fight the German occupiers and whose mother becomes involved with a German officer.
Contact: Partysans robert@partysans.com.mk
Losers (Bulgaria)
Dir Ivaylo Hristov
The Band's Visit, Sofia style: actor-director Ivaylo Hristov's comedy-tinged black-and-white youth drama hinges on a group of high-school losers whose drab provincial lives are shaken up by the arrival of a famous rock group. Winner of the Golden George award at the 2015 Moscow International Film Festival, Hristov's third film narrowly beat another Bulgarian festival darling, Thirst, to become the country's Oscar submission.
Contact: Films2C chantal@films2c.com
Lost In Munich (Czech Republic)
Dir Petr Zelenka
Lost In Munich represents the second time a film from writer-director Petr Zelenka has been the Czech Republic's foreign-language entry, following 2008's The Karamazov Brothers. This comedy, which satirises politics and the film-making process, features an aged parrot that frequently spouts racist epithets and is captured by a Czech journalist (Martin Mysicka).
Contact: Lucky Man Films daria@luckymanfilms.com
A Man Called Ove (Sweden)
Dir Hannes Holm
Sweden's Oscar contender is based on Fredrik Backman's novel, which was initially rejected by publishers because it was deemed to be too uncommercial; when it finally was published, it became a huge hit all over the world. The story of ageing curmudgeon Ove, who softens when a new family moves in next door, spawned a play as well as Hannes Holm's heartwarming film.
Contact: TrustNordisk rikke@trustnordisk.com
Mother (Estonia)
Dir Kadri Kousaar
Kadri Kousaar's comic crime drama enchanted US audiences at Tribeca. Loosely based on radio series Coma, it is the story of a mother (Tiina Malberg) who attempts to find out who shot her adult son, now in a coma. This is Kousaar's third feature; her debut, Magnus (2007), played in Un Certain Regard in Cannes.
Contact: Film Sales Company andrew.herwitz@filmsalescorp.com
My Life As A Courgette (Switzerland)
Dir Claude Barras
Adapted by Girlhood director Céline Sciamma from Gilles Paris' novel, this stop-motion animation from Claude Barras tells of a young boy struggling to adapt to life in a foster home after the death of his mother. The film has picked up a raft of accolades, including both the Audience Award and Cristal Award at this year's Annecy, and was in contention for the Camera d'Or at Cannes.
Contact: Indie Sales info@indiesales.eu
On The Other Side (Croatia)
Dir Zrinko Ogresta
Croatian auteur Zrinko Ogresta's seventh feature premiered in the Berlinale's Panorama section and is now in the Oscar hunt. This fraught Balkan drama is about a nurse in Zagreb who, out of the blue, receives a call from her long-lost husband, who left the family just before the war to fight for 'the other side'.
Contact: Cercamon sebastien@cercamon.biz
Paradise (Russia)
Dir Andrei Konchalovsky
A year after Son Of Saul won this category, it remains to be seen whether the Academy would vote for another Holocaust-themed film. Nevertheless, Russia's submission is this drama from veteran director Andrei Konchalovsky, which follows the crossing paths of three characters: a Russian aristocrat who has joined the French Resistance, a collaborator and an SS officer. Konchalovsky won the best director prize in Venice for the film.
Contact: ARRI Media International worldsales@arri.de
Seneca's Day (Lithuania)
Dir Kristijonas Vildziunas
Seneca's Day examines a group of idealitic Lithuanian teens in 1989, whose close friendship is shattered by a romantic triangle. The film then flashes forward to the present as one of the friends re-evaluates his life. The film's director, Kristijonas Vildziunas, was previously a member of the rock band Northern Direction.
Contact: Locomotive Productions office@locomotive.lv
Sieranevada (Romania)
Dir Cristi Puiu
Premiering in Competition at this year's Cannes, Cristi Puiu's drama about a family gathering after a bereavement aims to be Romania's first foreign-language Oscar nomination. Puiu's drama The Death Of Mr Lazarescu, which won Cannes' Un Certain Regard prize, was the country's entry in 2005.
Contact: Elle Driver sales@elledriver.fr
Sparrows (Iceland)
Dir Runar Runarsson
Winner of San Sebastian's Golden Shell in 2015, Sparrows centres on a 16-year-old boy whose big-city lifestyle is disrupted when he is sent to live with his father in a small fishing village. Runar Runarsson was Oscar-nominated in 2008 for his short The Last Farm.
Contact: Versatile info@versatile-films.com
Stefan Zweig: Farewell To Europe (Austria)
Dir Maria Schrader
The directorial debut of actress Maria Schrader charts the life of 20th-century writer Stefan Zweig as he struggles to reconcile himself to events in 1930s Europe. The film had its world premiere in Locarno and was recently picked up by Edge Entertainment for the Nordic region and the Baltics. Josef Hader and Barbara Sukowa star.
Contact: Films Distribution fry@filmsdistribution.com
Toni Erdmann (Germany)
Dir Maren Ade
A box-office hit in Germany and Austria and a critical darling following its Cannes premiere (where director Maren Ade won the Fipresci Award), Toni Erdmann follows a father as he tries to reconnect with his adult daughter. Ade's well-sold follow-up to her 2009 Berlinale Silver Bear winner Everyone Else was picked up by Sony Classics for US and Latin America.
Contact: The Match Factory info@matchfactory.de
Tonio (Netherlands)
Dir Paula van der Oest
Paula van der Oest has had mixed experiences at the Oscars. She was a nominee for Zus & Zo back in 2001 but, as the result of a misunderstanding, was detained by police after the Governors Ball. Her 2014 feature Accused was also the Dutch Oscar candidate. Her new feature Tonio is a gut-wrenching drama about parents struggling to cope with bereavement after their son is killed.
Contact: Dutch Features Global Entertainment pim@dutchfeatures.com
Train Driver's Diary (Serbia)
Dir Milos Radovic
This dark comedy from Serbian director Milos Radovic received its world premiere at this year's Moscow International Film Festival, where it won the Audience Award. The film explores the working lives of train drivers and the number of people they kill inadvertently while on the job. Train Driver's Diary is produced by and stars veteran Serbian actor Lazar Ristovski, who also co-produces and appears in Croatia's Oscar submission On The Other Side.
Contact: Zillion Films zillion@open.telekom.rs
Ukrainian Sheriffs (Ukraine)
Dir Roman Bondarchuk
The latest documentary from Roman Bondarchuk, whose previous work includes Euromaidan. Rough Cut, follows two men appointed sheriffs of a Ukrainian village as news of war creeps into the everyday normality of stolen ducks and drunken neighbours. The film won the Special Jury Award for feature-length documentary at last year's International Documentary Film Festival Amsterdam.
Contact: Taskovski Films sales@taskovskifilms.com
Under The Shadow (UK)
Dir Babak Anvari
Sundance hit Under The Shadow, the directorial debut of UK-Iranian film-maker Babak Anvari, takes place in 1988 during the Iran-Iraq War as a woman and her child are tormented by a malign presence. Netflix picked up worldwide streaming rights ahead of its Sundance bow.
Contact: XYZ Films nate@xyzfilms.com
Voices From Chernobyl (Luxembourg)
Dir Pol Cruchten
Pol Cruchten's documentary Voices From Chernobyl is based on the book of the same title by Svetlana Alexievich, who last year won the Nobel prize in literature. Based around eyewitness reports of the Chernobyl disaster, the film was shot on location in Ukraine. Cruchten has already won a handful of festival prizes for the project, among them best documentary at Minneapolis St Paul International Film Festival.
Contact: La Huit stephane.jourdain@lahuit.fr