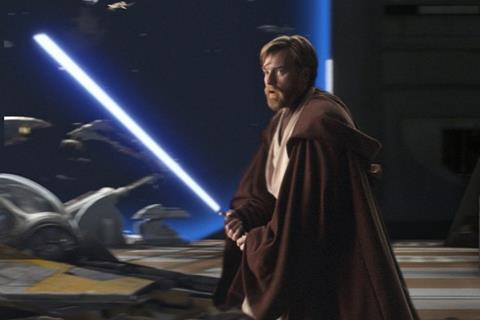 Disney's streaming series about Star Wars character Obi-Wan Kenobi, which had been set to shoot at Pinewood Studios, has been put on hold and its crew sent home, according to reports.
The as yet untitled series, in which Ewan McGregor will reprise his role as Kenobi for the Disney+ streaming service, has been in pre-production at Pinewood, with Hossein Amini as writer and Deborah Chow, one of the directors on the first Disney+ Star Wars spin-off series The Mandalorian, set to direct.
But reports suggest that production company Lucasfilm has delayed the shoot indefinitely so that more work can be done on the scripts, which will be set some years after the events of 2005 Star Wars feature Revenge Of The Sith (pictured).
Sources indicated the project is still in development. McGregor and Chow are believed to remain attached, though it is unclear whether new writers will be sought and whether the series' episode count will be reconsidered.
Collider first reported the production delay. Disney+ did not comment and Lucasfilm could not be reached at press time.