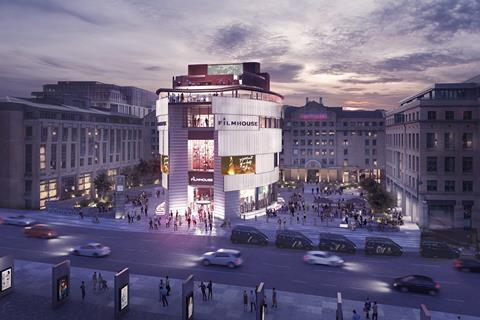 Planning permission has been submitted for a £60m film hub in Edinburgh city centre that aims to be the new home for the Filmhouse cinema and the Edinburgh Film Festival.
The New Filmhouse project, managed by Centre for the Moving Image (CMI), was first proposed in March 2020, and will be located in the city's Festival Square.
The latest plans include five new underground cinema screens with a total capacity of 828, compared to the current Filmhouse's 455.
The project will also include a studio theatre with a capacity of 80 that can be used for film screenings or live events, conference facilities, an expanded café bar, a separate restaurant, and a programmable rooftop terrace and public viewpoint.
A decision on planning is expected by early summer 2021. If successful, construction could begin in 2023 for completion in 2025.
The site of the current Filmhouse, a 190-year-old former church on Lothian road, could not be redeveloped. If the plans are approved, the cinema will stay at that location until the new site opens.
The design has been reduced in height back following a consultation period, and will have less office space than previously planned.
The project aims to attract over 800,000 individual visits each year and work with more than 200 partners and organisations.