Waheeda Rehman, Shashank Arora (Titli, pictured) and Tillotama Shome (Qissa) have joined the cast of Anup Singh's third feature The Song of Scorpions, which was first pitched at Film Bazaar 2013.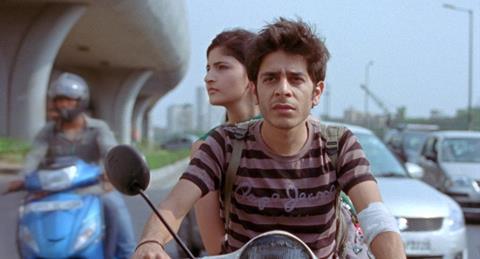 As previously reported, French-Iranian actress Golshifteh Farahani and Irrfan Khan lead the cast. Rehman, an Indian acting legend who has appeared in more than 85 films since the 1950s, plays Farahani's grandmother, a singing healer.
Qissa director Singh will start the 7-week shoot for the new film on Nov 26 in Rajasthan.
Saskia Vischer, Shahaf Peled, Michel Merkt and Thierry Lenouvel are producing the Swiss-French co-production. Rakesh Mehra's Kriti Productions is serving as the Indian co-producer.
The film has backing from Swiss federal fund BAK, regional fund Cinéforom, and the CNC's Aide aux cinemas du monde.
Set in the mystical Thar Desert of Rajasthan, Singh's original story is about a shaman woman who travels the desert and heals scorpion poisoning with a song. When she realises that she herself has been poisoned emotionally by the man in her life, it starts her on a quest to find the healing song for herself.
The story came to Singh in a dream while he was in post on Qissa: The Tale of a Lonely Ghost, which won the NETPAC award at Toronto 2013.
Singh told Screen, "To me, the film is about the primal difficulty of our time: how do we breathe? Surrounded by violence, we can choose to breathe out aggression or to sing a song that heals. The film seeks to affirm our responsibility to our earth and fellow humans. Despite all difficulties, we must not allow anything to stop us singing."
The production has already recorded seven original songs for the project, with an album to be launched alongside the film. "Music is very important to the film and music is part of daily life in Rajasthan," said producer Vischer. "For a long time Anup has wanted to make a film related to music."
The themes will be universal, Vischer adds. "It's a choice that every human makes, you can breathe out poison or you can breathe out good." She adds that the story is also about the clash between modern and traditional ways of life.
"Where Qissa was quite a dark film, Scorpions is lighter, a celebration of life," she says. "It's an ambitious film."
The cast and crew number more than 170 people.
The Song of Scorpions is set for delivery in late 2016 or early 2017. Post production will be done in Europe.