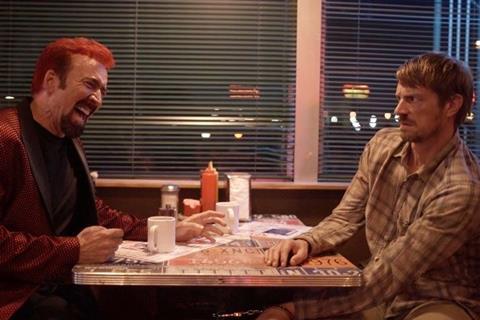 RLJE Films has acquired North America, UK & Ireland, and Australia & New Zealand rights from Capstone Global to the psychological thriller Sympathy For The Devil starring Nicolas Cage and Joel Kinnaman.
Yuval Adler (Bethlehem, The Operative) directed the film about a man thrown into a game of cat-and-mouse after he forced to drive a mysterious passenger at gunpoint.
Cage served as producer along with Alex Lebovici, Allan Ungar, and Stuart Manashil. Executive producers are Luke Paradise, Capstone Global head Christian Mercuri, David Haring, Marc Goldberg, David Sullivan, Tim Moore, Jason Soto, Courtney Chenn, and Waylen Lin.
Paradise made his feature screenwriting debut on Sympathy For The Devil, which will get a release on July 28.
"This is our eighth collaboration with Nicolas Cage, which includes Mandy – a critically-acclaimed film that has a huge cult following," said RLJE film chief acquisitions officer Mark Ward. "Once again, he doesn't disappoint. In this film, Cage and Joel Kinnaman bring to life a suspenseful tale on screen that will keep audiences guessing."
Ward negotiated the deal with Capstone Global on behalf of the filmmakers. Capstone Global