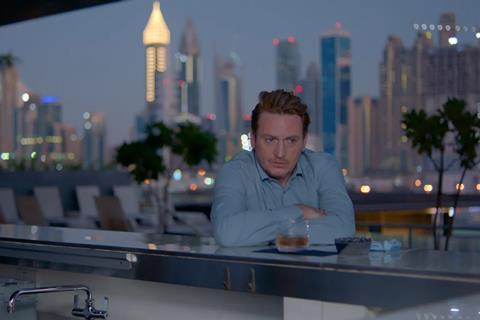 International Film Festival Rotterdam (IFFR) has unveiled the first titles for its summer event, which has shifted to a hybrid format due as the pandemic continues.
The celebration of the festival's 50th anniversary was due to run as a physical series of screenings and events from June 2-6, complementing the online-only edition of IFFR that took place in February.
It will now be presented as a hybrid event, with a film programme that will be available online in the Netherlands and physically in Rotterdam, as well as in collaboration with cinemas across the country subject to Covid-19 restrictions. The on-demand aspect will also see the dates extended to June 9, due to the 72-hour viewing window.
The June festival will mark the launch of IFFR's newest and biggest programme, titled Harbour. This will include the world premiere of French filmmaker Samuel Doux's Dubai-set feature debut Dune Dreams, as well as the international premiere of The Blue Danube by Japan's Ikeda Akira, whose Anatomy of a Paper Clip won the Tiger Award at IFFR 2014. Akira's latest muses on the absurdity of bureaucracy in Japan, as soldiers fight a pointless war without remembering why.
Further titles in Harbour include the debut feature of Ángeles Cruz, a director of Mixtec origin, whose Nudo Mixteco follows three migrant workers who return to the village of their birth. Portuguese director Cláudia Varejão, whose shorts were selected at IFFR in 2010 and 2013, will bring documentary Amor Fati, which offers portraits of "togetherness" from couples to pets and their owners.
Spanish director Agustí Villaronga, whose work was the subject of an IFFR retrospective in 2011, returns with El Ventre Del Mar, which recounts the tragic La Méduse shipwreck of 1816. In addition, Japan's Hara Kazuo is selected with his latest film Minamata Mandala. Hara has a long history with IFFR and his renowned film The Emperor's Naked Army Marches On won the KNF Award at the festival in 1988.
Another cinematic veteran Júlio Bressane, a celebrated figure in Brazil's Cinema Marginal movement, returns to IFFR with Capitu And The Chapter.
The line-up will also include IFFR strands Bright Future and Cinema Regained as well as the short and mid-length programme, with a selection of outdoor open-air screenings of IFFR classics. The Art Directions strand completes the physical offering with live performances, virtual reality and a travelling installation.
IFFR festival director Vanja Kaludjercic, who fronted her first edition this year, said: "If cinemas reopen, we will be there to welcome audiences to the big screen… No matter what, we will be here both for our audiences and filmmakers to offer fresh perspectives and a great plurality of voices."
The full programme for the June event will be announced on May 18.
Harbour selection
Amor Fati (Port-Switz-Fr)
Dir: Cláudia Varejão
Birds Of America (Fr)
Dir: Jacques Lœuille
The Blue Danube (Jap)
Dir: Ikeda Akira
Bottled Songs 1-4 (Ger-Fr-US)
Dirs: Chloé Gailbert-Laîné, Kevin B. Lee
Capitu And The Chapter (Bra)
Dir: Júlio Bressane
Davos (Austria)
Dirs: Daniel Hoesl, Julia Niemann
Death On The Streets (Ger-Den-Greece)
Dir: Johan Carlsen
Decameron (HK)
Dir: Rita Hui Nga Shu
Dune Dreams (Fr-Bel)
Dir: Samuel Doux
Fan Girl (Phil)
Dir: Antoinette Jadaone
Homeless (S Kor)
Dir: Lim Seung-hyeun
Hotele Lerallaneng (S Afr)
Dir: Charlie Vundla
A Man And A Camera (Neth)
Dir: Guido Hendrikx
Minamata Mandala (Jap)
Dir: Hara Kazuo
Nudo Mixteco (Mex)
Dir: Ángeles Cruz
Only The Winds (Leb-US)
Dir: Karim Kassem
Persona Non Grata (Den)
Dir: Lisa Jespersen
Scarecrow (Rus)
Dir: Dmitry Davydov
A Song For You (China)
Dir: Dukar Tserang
An Unusual Summer (Pal)
Dir: Kamal Aljafari
El Ventre Del Mar (Sp)
Dir: Agustí Villaronga
Bright Future selection
All About My Sisters (China)
Dir: Wang Qiong
Berg (Neth)
Dir: Joke Olthaar
Damascus Dreams (Can)
Dir: Émilie Serri
Faya Dayi (Eth-US-Qat)
Dir: Jessica Beshir
A Felicidade Das Coisas (Bra)
Dir: Thais Fujinaga
Lumina (It)
Dir: Samuele Sestieri
OK Computer (India)
Dirs: Pooja Shetty, Neil Pagedar
Phoenix (Bel-Fr-UK)
Dir: Bram Droulers
Rock Bottom Riser (US)
Dir: Fern Silva
The Son (Iran)
Dir: Noushin Meraji
Thomas Der Hochspringer (Ger)
Dir: Leri Matehha
Woodlands Dark And Days Bewitched: A History Of Folk Horror (US)
Dir: Kier-La Janisse