EXCLUSIVE: Breaking Habits tells the story of California's Sisters of the Valley.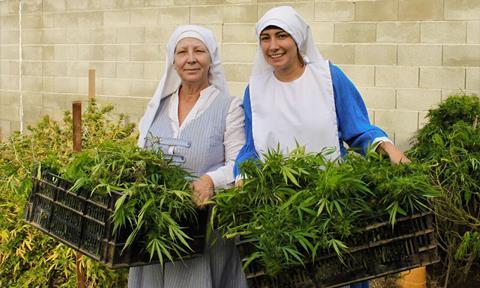 UK production outfit Salon Pictures has kicked off principal photography on Breaking Habits, a feature documentary about a commune of nuns who run an illegal cannabis farm in the US.
The collective, called the Sisters of the Valley, operate their business in Merced, California. They were founded by former financial worker Sister Kate, who quit the business and became an activist, adopting the nun persona after dressing in a habit for the 2011 Occupy Wall Street protest.
According to a 2016 Guardian interview, they claim not to follow any traditional religion, and say they are attempting to make the production of a marijuana a "healing industry".
Salon has provided equity financing and worldwide rights are currently available. Paul Van Carter and Nick Taussig of Salon produce.
Rob Ryan, whose credits include Human Race with the BBC, is directing the feature. Filming has begun in Merced at the Sisters of the Valley operation, with Sister Kate as its subject.
Ryan commented: "The team we have assembled is just perfect, and after a long period of development I am thrilled to be partnering with Salon to bring Sister Kate's extraordinary and complex story to the big screen".
Also on Salon's slate is documentary McQueen, about the life of fashion designer Alexander McQueen, and the upcoming feature Churchill, which stars Brian Cox as the wartime leader and is set for release on June 16 in the UK and June 2 in the US.