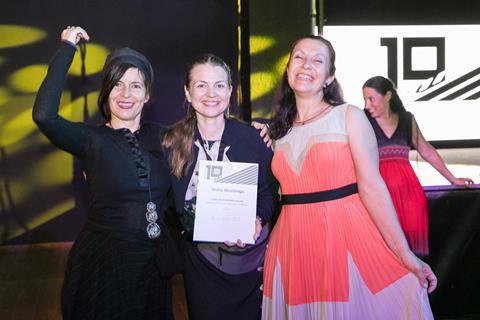 Escape Net, the second feature project by Latvian director Dzintars Dreibergs won the top prize at the Sofia Meetings co-production market in Bulgaria on Sunday.
The project is based on a true story set in Soviet-era Riga about a young woman who joins a basketball team in the hope it will allow her to travel abroad and meet her brother.
According to producer Marta Romanova-Jekabsane of Riga-based Kultfilma,around 70% of the film's € 1.5m budget is in place and she is looking to bring other co-producers onboard to close the financing.
The project was awarded production services worth €25,000 from Cinelab Romania.
Dreibergs' 2019 feature debut Blizzard Of Souls was the most popular local film in Latvia for the past 30 years and has also been distributed in more than 50 countries.
Romanova-Jekabsane was also at the Sofia Meetings to represent Soviet Milk in the Works in Progress section. The drama is based on Latvian writer Nora Ikstena's novel which follows a mother and daughter from 1945 to the collapse of the Soviet Union in 1989 and is produced by Film Studio DEVINI with Belgium's UMedia.
Meanwhile, the €10,000 prize of post-production services from Hungarian facility Focusfox, was awarded to Israeli filmmaker Eti Tsicko's debut As If You Were Never There which was presented in the Plus Minus One section dedicated to first and third features.
The Israeli-Georgian co-production is being produced by Amir Harel's Lama Films and Vladimer Katcharava's 20 Steps Productions It centres on a lawyer who travels to Georgia to represent a migrant worker, in what is a renewed guardianship lawsuit for the child she had to leave behind with her family 11 years ago.
In addition, Ukrainian-born filmmaker Svitlana Topor's debut feature No Smoking At The Border was awarded the prize of a script consultancy with Steven Goldsmith, offered by sales agent Eastwest. Described as a drama with magical elements set on a train travelling from Ukraine to Poland, the project by Warsaw-based Emily Production has already received development funding from the Polish Film Institute.
The jury was comprised of producers Estee Yacov-Mecklberg from Israel's 2 Team-Productions, Kaarle Aho of Finland's Making Movies, and Ingrid Lill Hogtun of Norway's Barentsfilm.
Further awards
The awards ceremony on Saturday evening also saw the Mediterranean Film Institute (MFI) offer a scholarship to the Latvian director-producer Andris Gauja for his third feature The Collaborator to participate in the upcoming MFI Script 2 Film Workshop.
Gauja revealed during his pitch of the period drama set during the Nazi occupation of Latvia that he will be co-directing the film with his wife Elza Gauja, the first time they have worked together as co-directors on a feature film. Gauja also pitched one of the four TV series projects selected for this year's Sofia Meetings the comedy drama series Childocracy which will be his and co-director Janis Ebele's first foray into directing for the small screen. Childocracy had been presented at last year's international script development workshop Kids Kino Lab and is now participating in the Midpoint Series Launch project development programme.
In addition, Turkey's Yapimlab's Young Producer Award offering a week's project consultancy in Istanbul went to the Slovenian producer Nina Robnik who had come to Sofia with director Darko Stante to pitch his second feature The Lost Son. The production by Staragara with Serbia's Sense and Croatia's Sekvenca as production partners already has Wide Management onboard as sales agent after the company had previously handled international distribution for Sante's debut feature Consequences which premiered in Toronto in 2018.
Sofia Meetings ran from June 9-12 and saw 28 projects pitched to an international audience of potential co-producers, funders, distributors and sales agents. Projects were divided into four sections: Plus Minus One (for first and third features), Second Film Projects, TV Series Projects, and debutant projects by filmmakers from southeast Europe as part of the First Films First year-long training programme.
The line-up included the debut feature by the Turkish director Burcu Aykar, As Shadows Fade, which will now be heading next week to the Transilvanian Pitch Stop (TPS) project platform in Cluj after winning the TPS Award at Meetings on the Bridge in Istanbul in April, and Croatian filmmaker Vanja Vascarac's period supernatural thriller Blok 62 which has already attracted XYZ Films to come onboard as the film's sales agent.
The Sofia Meetings will revert to their traditional dates of late March for next year's 20th anniversary edition. They are scheduled to be held from March 23-16 2023 during the 27th Sofia International Film Festival (March 16 – 26, 2023).