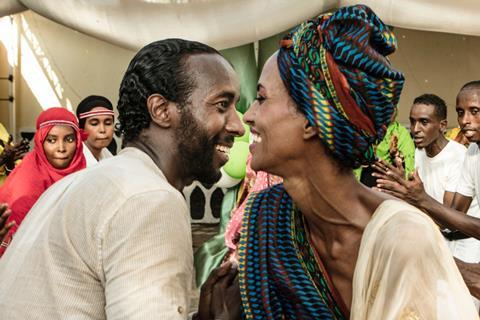 Finnish-Somali filmmaker Khadar Ayderus Ahmed's The Gravedigger's Wife scooped the top prize at the 27th edition of the Pan-African Film and Television Festival of Ouagadougou (Fespaco) in Burkina Faso over the weekend.
The largest film festival in Africa, the biannual event normally takes place end-February, start-March but was pushed to October 16-23 this year due to the Covid-19 pandemic.
Its top prize is the $36,000 Golden Stallion of Yennenga (Étalon de Yennenga) award. The prizes are named after legendary warrior princess Yennenga, who is considered the mother of the Mossi people of Burkina Faso.
The Gravedigger's Wife world premiered in Cannes Critics' Week in July and has since been selected as Somalia's first-ever Oscar submission for the 2022 Academy Awards.
Set in Djibouti City in the Horn of Africa, the drama stars Finnish-Somali actor Omar Abdi as a gravedigger on a quest to raise the money for the kidney transplant desperately needed by his beloved wife, played by Canadian-Somali model and actress Yasmin Warsame.
There were 17 features in the main competition - hailing from Egypt, Angola, Burkina Faso, Cameroon, Chad, Ivory Coast, Lesotho, Morocco, Namibia, Nigeria, Rwanda, Senegal, Somalia, Tanzania, Tunisia and Haiti. The international jury was headed by Mauritanian filmmaker Abderrahmane Sissako.
In other awards, Haitian director Gessica Geneus won the Silver Stallion for Freda. The semi-autobiographical, Creole-language feature debut revolves around a young woman trying to keep her head above water as her home country of Haiti slides into chaos. It world premiered in Cannes Un Certain Regard in July.
Tunisian filmmaker Leyla Bouzid's Tale Of Love and Desire won the Bronze Stallion. The love story between a Tunisian girl and a French-Algerian boy who meet while studying in Paris, world premiered as the closing film of Cannes Critics' Week in July.
Best actor went to Alassane Sy for his performance in the Senegal-set drama Nafi's Father, by Mamadou Dia, as an imam who tries to protect his community from jihadists. UK-born actress Zainab Jah, who is also of Sierra Leonean descent, won best actress for her performance in Tanzanian director Ekwa Msangi's Sundance prize-winning immigrant story Farewell Amor.
Best screenplay went to Rwandan director Mutiganda Wa Nkunda's feature Nameless about a young couple trying to make ends meet in Kigali.
In the feature documentary competition, Burkinabe filmmaker Moumouni Sanou's Night Nursery, about a woman who looks after the children of prostitutes while they are at work, clinched the Golden Stallion for best documentary feature.
The Silver Stallion in the documentary category went to French-Senegalese actress and filmmaker Aïssa Maïga's Above Water, while Bronze Stallion went to Central African Republic director Elvis Sabin Ngaibino's Makongo, about two AKA pygmy men who sell roasted caterpillars in the city to raise money for education for their people.
The festival also handed out a raft of craft awards with Night of Kings winning best decor, Souad winning best editing, This Is Not A Burial, It Is A Resurrection winning best cinematography, Freda, best sound, and The Gravedigger's Wife, best music.