Sony Pictures Television (SPT) has taken a minority stake in Simon Pegg and Nick Frost's fledgling indie TV production outfit Stolen Picture.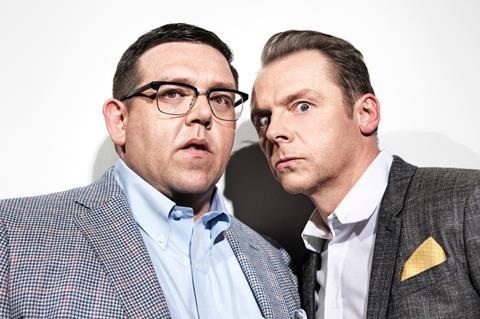 As part of the deal, SPT will handle TV distribution for the international-facing film, TV and digital producer, which has also hired Bad Wolf exec Miles Ketley as chief executive officer.
Actor-writers Pegg and Frost first worked together on British sitcom Spaced before going on to star in films such as Shaun Of The Dead and Hot Fuzz.
They launched Stolen Picture in May, with an eye on international-facing film and TV projects that align with their brand of comedy.
The indie's first project is comedy-horror film Slaughterhouse Rulez, which is currently in production for Sony Pictures International Productions.
Sony Pictures International will sell the project globally.
Ketley worked as chief operating officer at Jane Tranter's Bad Wolf from 2015 until March.
He was previously co-head of the film and TV group at UK media law firm Wiggin LLP, which he joined from Fox Searchlight Pictures.
Ketley said: "Simon and Nick have so many great ideas and are so versatile as writers, performers and producers. When you combine this with the authentic connection with audiences that they already have and the need for multi-genre content across proliferating platforms, Stolen Picture has a rare opportunity to create a diversified slate and have a lot of fun in the process."
SPT chief creative officer for international Wayne Garvie added: "Nick and Simon are good friends of the Sony group already, and this deal will help us take things to the next level. I'm sure that their boundless zest and creativity, coupled with Miles' insight and energy, will help build Stolen Picture into an exceptional production company."
The deal was negotiated by Michael Brader and Medwyn Jones of Wiggin LLP on behalf of Stolen Picture, with Richard Parsons leading an in-house team at SPT.
This story first appeared on Screen's sister publication Broadcast.