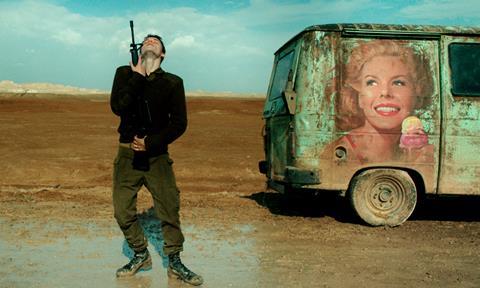 Sony Pictures Classics (SPC) has acquired all rights in North America, Latin America and Scandinavia to Samuel Maoz's Israeli Oscar submission Foxtrot.
Earlier this week the drama won eight Israeli Ophir Awards including best film, best director and best actor for Lior Ashkenazi following an acclaimed run in Venice – where it earned the grand jury prize – Telluride and Toronto.
Foxtrot centres on an Israeli couple who learn their soldier son has been killed while stationed at an isolated checkpoint. The film has sparked controversy after Israel's minister of culture Miri Regev publicly criticised the film's depiction of mistreatment of Palestinians at the hands of Israeli troops. Regev was not invited to the Ophirs.
SPC worked with Maoz on Lebanon and international sales agent The Match Factory on Toni Erdmann, The Lunchbox, and Waltz With Bashir.
"Foxtrot is a rare, fresh, suspenseful and important movie," SPC said in a statement. "Once you've experienced all of its surprises, you will never be the same. It is great to be in business with Samuel, Eitan Mansuri, and Michael Weber from The Match Factory once again."
Maoz added, "It was a huge compliment when Sony Pictures Classics took my first film Lebanon and now I'm proud and glad they did it again. I think it's the beginning of a beautiful friendship."
"The rhythm has changed," The Match Factory's Weber said. "In 2009 it was the Waltz (with Bashir), this time it's the Foxtrot, I'm delighted about dancing with my friends at Sony Pictures Classics again."
"We are happy and excited to go in the Oscar journey together with Sony Pictures Classics, it's the best fit for our film," added producer Mansuri of Spiro Films, who produced with Weber and Viola Fügen of Pola Pandora, Cedomir Kolar and Marc Baschet of A.S.A.P. Films, and Michel Merkt of KNM.
SPC brokered the deal with The Match Factory and ICM Partners.