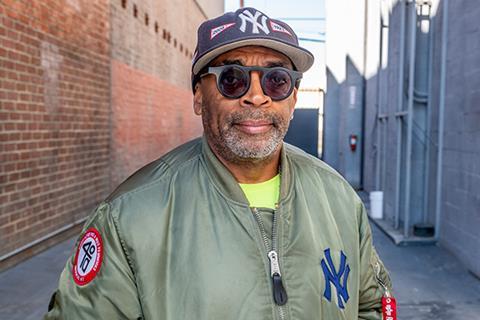 US director Spike Lee has renewed his commitment to take up the baton of jury president at the 2021 Cannes Film Festival, which is due to unfold with the later-than-usual dates of July 6-17 due to the Covid-19 pandemic.
Lee was to have presided over the 2020 edition of the festival until it was cancelled in mid-April and replaced with a Cannes 2020 label instead.
Frémaux later revealed that Lee's Netflix-backed drama Da 5 Bloods had been due to screen out of competition at the festival, although it did not end up figuring in the 2020 label selection. It launched on Netflix last June.
Lee accepted the offer via a video message with Cannes Film Festival delegate general Thierry Frémaux, which can be viewed below.
"I have a special place in my heart for Paris, for France and for the Cannes Film Festival," said the director. "Way back in 1986, my first film She's Gotta Have It played there and it was my introduction to the world of cinema. Cannes will always, always always have a deep, deep spot in my heart."
"Throughout the months of uncertainty we've just been through, Spike Lee has never stopped encouraging us. This support is finally coming to fruition and we could not have hoped for a more powerful personality to chart our troubled times," said Cannes Film Festival president Pierre Lescure.
"His enthusiasm and passion for cinema has given us a huge boost of energy to prepare the great Festival that everybody has been waiting for. We simply can't wait!" added Frémaux.
The announcement is a sign that Cannes is pushing on with its plans for a July edition in spite of concerns in the backdrop that the coronavirus situation may not have improved enough in France by the summer for it to go ahead.
Lee will be the first black jury president in the history of the festival, although Mauritanian-born Malian director Abderrahmane Sissako presided over the Un Certain Regard jury in 2003.
His arrival in the role will have even more resonance this year in light of the worldwide Black Lives Matter protests sparked by the killing of George Floyd in Minneapolis last May.
It has been a busy 12 months for Lee. Aside from promoting Da 5 Bloods and concert film American Utopia, the director also made the short film 3 Brothers over the summer in response to Floyd's killing, comparing it to the treatment of the character of Radio Raheem in his 1989 film Do The Right Thing.
The Brooklyn-raised director, screenwriter, actor, editor and producer has a long relationship with Cannes.
He first hit the Croisette in 1986 with his debut feature She's Gotta Have It, which premiered in parallel section Directors' Fortnight, winning the Prix du Jeunesse. The award aimed at films in Critics' Week and Directors' Fortnight ran from 1982 to 2002. It was also won by international filmmakers including Lynne Ramsay and Baz Luhrmann.
He returned to premiere Do The Right Thing and Jungle Fever in Competition in 1989 and 1991, respectively. He then debuted comedy drama Girl 6 out of competition in 1996 and was back in Directors' Fortnight in 1999 with crime drama Summer Of Sam.
In 2002, he took part in Un Certain Regard with Ten Minutes Older, a portmanteau film involving seven directors also including Jim Jarmusch, Wim Wenders and Aki Kaurismäki. Lee directed a segment entitled The Trumpet.
After a 22-year break, Lee returned to Competition with political thriller BlacKkKlansman in 2018, which won the Grand Prix and went on to win Lee his first Oscar last year for best adapted screenplay.