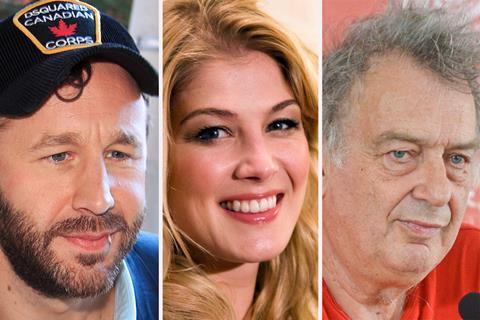 Stephen Frears has been set to direct Rosamund Pike and Chris O'Dowd in State Of The Union, a short-form comedy series to be produced by See-Saw Films for SundanceTV.
Written by Nick Hornby, the series will start shooting this summer in London. Amy Jackson will produce for See-Saw with the company's head of television Jamie Laurenson, COO of television Hakan Kousetta, Iain Canning, Emile Sherman and Hornby.
Stephen Frears will serve as executive producer and Kristin Jones, EVP of international programming for AMC and SundanceTV, is the executive in charge for SundanceTV.
Structured in ten episodes of ten minutes each, the series will track how two people who meet before their weekly marital therapy session were drawn together and have started to be pulled apart.
The series was first announced last year, with Roger Michell set to direct. Endeavor Content handles international sales.
In a statement, Hornby said: "I am so pleased to be working again with Stephen, Rosamund and Chris. I first met Stephen when he directed High Fidelity, Rosamund when she revealed her wonderful comic talent in An Education, and Chris when he made the forthcoming Juliet, Naked, and I think they will make a tremendous team. State Of The Union is an unusual project, so it's all the more gratifying that we have managed to attract talent of this magnitude."
See-Saw's Kousetta and Laurenson said: "The short form series has given Nick the freedom to explore a marriage in crisis which manages to be both funny and touching in equal measure. Realised by such amazing on and off-screen talent, we couldn't be more excited to see these scripts brought to life."
SundanceTV and Sundance Now general manager Jan Diedrichsen added: "Sundance is thrilled to partner with our good friends at See-Saw Films on this short form original production. We are fortunate to have a dream team in front of and behind the camera to bring to life Nick's intimate, entertaining and relatable story of a modern marriage."